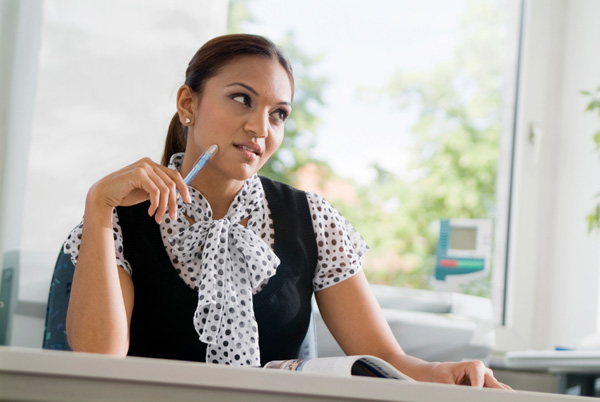 Turn up ahead
Solar eclipses are Astrology's life course correctors. Where they occult in the heavens points to where you need to go. You can think of them as a cosmic version of GPS. The solar eclipse on Thursday will re-route the lives of everybody - especially people born under Taurus, Leo, Scorpio, and Aquarius. You can expect changes in income, property value, your business partnerships, and career status. At first you may feel lost, but once you realize that the Stars know where you are going then you'll settle down. After all, the Stars have been guiding sailors at sea for centuries.

ARIES (March 20-April 18)
This is not the week to commit to anything. The solar eclipse on Thursday will bring an extraordinary opportunity that will be tantalizing and irresistible. But things that appear to be too good to be true often are as the occultations of Mercury and Mars suggest. "Occultation" means "hidden" and this moon shadowing of the planets points to all kinds of undisclosed costs and trip wire conditions that lie underfoot. Tread softly, and you should know what's what by the 15th. That is when the coast will be clear.

TAURUS (April 19-May 19)
Let's face it - you like the good life. But when you choose comfort over risk and the familiar over the untried, then you can wind up lowering the bar when you should be raising it. Right now the planets are pushing you to dig deep inside, to mine your inner resources, and to realize the potential that lies dormant within you. This may require you to turn your life upside down and to seek your future (and fortune) elsewhere. Go for it. You won't be sorry.
---

GEMINI (May 20-June 19)
So are you better off today than you were a year ago? It's an important question given that so much of what you're dealing with now stems from what transpired around May 20th, 2012. This would be a good time to ask yourself what matters most, because you could be holding on to situations that have outlived their turn on your life's stage. You need to let go of anything that isn't up to par so that you can invest your energies in endeavors that will pay off.

CANCER (June 20-July 21)
If the recent parade of planets through fiery Aries taught you anything, it's to get on out there and seize the day in a carpe diem sort of way. And now that you know you can do it, you must build on that momentum. People – like your boss – need to know that you are invested in being a success. Prove to him that you're willing to go the distance, and he will give you plenty of opportunities to show off what you can do in the weeks ahead.
---

LEO (July 22-Aug. 21)
Thursday's solar eclipse promises to change your career status. You could go from the bottom of the barrel looking up to the top of the heap looking down in the blink of an eye. What that means – along with the resulting consequences – will take weeks to figure out. Meanwhile a rival at work is up to his old tricks again. Apply the vampire rule that evil cannot enter unless it is invited. Refuse to open the window of opportunity, and you will have nothing to worry about.

VIRGO (Aug. 22-Sept. 21)
You're going to feel like you're back online this week when Mercury, planet of communication, conjoins Mars on May 7th. Instead of dropped calls and missing signals – the bane of your existence since February - you will find that the information you need is right there at your fingertips. Mercury is famous for hot tips, sneak peeks, and insider prices, so be ready to act fast – and to pay in cash of course. The shelf life on these steal deals is always short when Mercury is involved.
---

LIBRA (Sept. 22-Oct. 21)
You are still not convinced that a colleague is doing everything that he can to get back on track, but keep your distance. This won't be easy as you feel like he would make more headway if he would only listen to you. Yet the simple truth is that you can't do people's learning for them. Expect another stumble on Thursday, but hang back and let him pick himself up. You'll be surprised by how resourceful he can be when you're not doing the problem solving for him.

SCORPIO (Oct. 22-Nov. 20)
The days before the solar eclipse will be emotional. Expect to ride a wave of extreme highs and lows. It's also a time when you will want to keep that famous stinger of yours under wraps because Mercury's occultation by the moon on May 9th will make you imagine all kinds of worst-case scenarios. You're not really listening to people, and you're at risk of creating a self-fulfilling prophecy. The key to working out your problems with your boss is to test less and to trust more.
---

SAGITTARIUS (Nov. 21-Dec. 20)
You can no longer turn a blind eye to personal foibles. Just because you forgive your own shortcomings doesn't mean that other people will. This will become especially apparent on May 9th when your recent job performance comes under fire. The simple truth is you can do better. And you will do better once you break some bad habits. Developments are underway that promise to move you from the rank-and-file to the head of the line. Make sure that you are at the top of your game.

CAPRICORN (Dec. 21-Jan. 18)
There's a time to bird-dog matters, and then there's a time to let developments unfold on their own. Guess which one of those times this is? You really must learn to curb those micromanaging tendencies of yours – especially on Thursday when you're at risk of wresting the reins out of the hands of the very person who can help you get to where you want to go. This person sees the way ahead clearer than you do right now, and you would be well-advised to follow his/her lead.
---

AQUARIUS (Jan. 19-Feb. 17)
You're doing the heavy lifting in your household when it comes to making ends meet. If you're not burning the candle at both ends at work, then you're finding new ways to squeeze a dime out of a nickel. Thankfully you're good at running numbers, and you should know that your current game plan aimed at reducing debt will succeed in moving you out of the red and into the black by early July. You just need to keep on doing what you're doing.

PISCES (Feb. 18-March 19)
Pisces people feel like the life they're supposed to be living is waiting for them somewhere else. It's why you talk about leaving your job, changing careers, or starting afresh halfway around the world. But how can you be happy with what you have when you're constantly fixated on what you don't? It isn't easy being born under the sign of the dreamer. Ironically your dreams aren't the problem; it's your mistaken belief that dreams and reality don't mix. You'll discover how the two dovetail on May 9th.
More horoscopes
Your weekly love horoscope
Your weekly horoscope
Your annual love horoscope for 2013 
---
The opinions expressed in this article are of the author and the author alone. They do not reflect the opinions of SheKnows, LLC or any of its affiliates and they have not been reviewed by an expert in a related field or any member of the SheKnows editorial staff for accuracy, balance or objectivity. Content and other information presented on the Site are not a substitute for professional advice, counseling, diagnosis, or treatment. Never delay or disregard seeking professional medical or mental health advice from your physician or other qualified health provider because of something you have read on SheKnows. SheKnows does not endorse any specific product, service or treatment.