What was known as the News Feed in the web and app version is now Cover Feed on Facebook Home, and instead of scrolling through small versions of photos and status updates, you see full-screen versions of them, one at a time.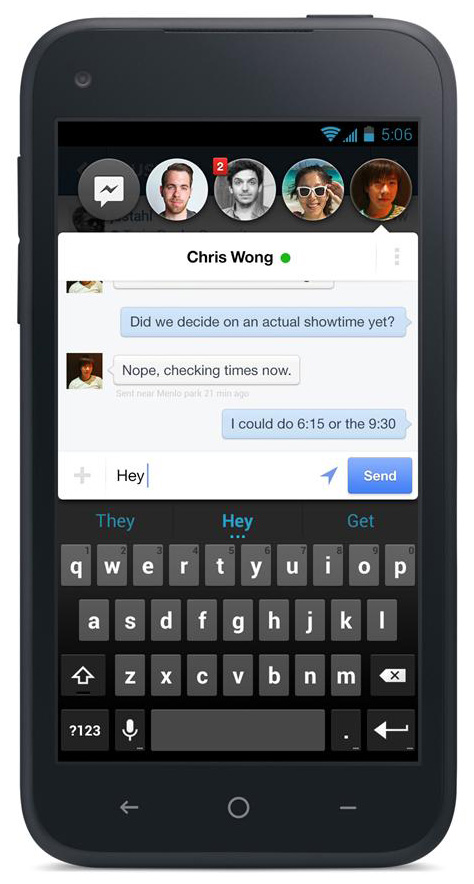 One benefit is that you can see pics in greater detail and "like" something just by double-tapping your screen. However, a drawback could be that scrolling through each person's individual photo or update full-screen could take a while, as opposed to the traditional horizontal-scroll News Feed, which is easy to quickly skim. Another possible snag? There's no way to hide someone's updates from appearing in your Cover Feed in Facebook home — that has to be done in the web version or app version.
If you're a major Facebook messenger user, you may like "Chatheads," which allows you to continue conversations even while using other apps. So if you're checking email or browsing the web and you get a Facebook message, a circle appears with your friend's face and you can respond right then without missing a beat. Home also integrates Facebook Messenger with your texts, so you can see your texts and Facebook conversations all in one screen without having to flip back and forth between them, which could save time.
The bottom line? Facebook Home may be right for you if you're a super-heavy user, but if you just like to occasionally see what people are up to, Home may be a bit all-consuming. After all, it's hard to unplug when Facebook is actually your home screen!
Home will be available pre-installed exclusively on HTC and AT&T phones, which go on sale April 12. But if you have an Android and want to give the technology a try, it's available as a free download from the Google Play store as well.
Tell us
Will you be trying Facebook Home? Share in the comments below!
Best iPhone apps
Best apps for the iPhone: Decorating apps
Best apps for the iPhone: Budgeting apps
Best apps for the iPhone: Fitness apps
Photo credits: Facebook