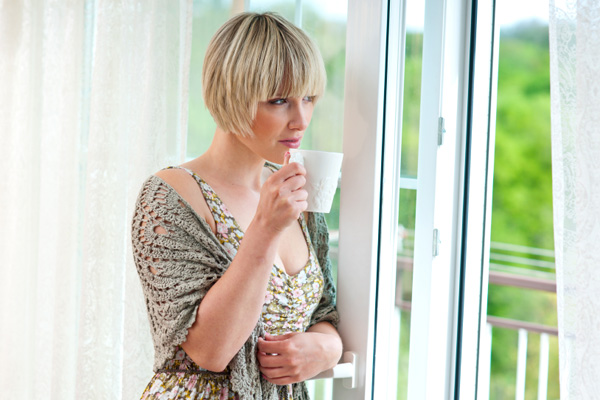 Kiss the Ground
Life returns to normal when the Sun enters earthy Taurus on Friday. It's been a rough passage these past five weeks, as you've been thrown for more loops and treated to more bombshells and surprise revelations than you can keep track of. The only exceptions to this would be the fire signs — which would be people born under Aries, Leo and Sagittarius. These guys have probably never felt more alive. As for everyone else? You probably couldn't wait for the emotional rollercoaster to come to a complete stop. There's been far too much drama for your taste.

ARIES (March 20-April 18)
You can expect some surprise developments in your home life this week — especially if you were born between April 13 and April 19. This may be when he pops the question, you decide to move or you discover that there's a new addition to the family on the way. In any case, the first quarter Moon in the zodiac sign of Cancer on Thursday signals a dramatic change in your life direction and one that's for the better.

TAURUS (April 19-May 19)
You'll start to feel the ground beneath your feet this week as Venus, Mars and the Sun all enter your zodiac sign. Not only will this come as much-needed relief (you don't even want to think about repeating what you've been through these past five weeks), but you'll soon discover that you're in better shape than you thought. Yes, you have some big changes to make, but even you will have to admit that they are for the better and long overdue.
---

GEMINI (May 20-June 19)
You hate to commit to anything. It just makes you feel like you're losing out on something better — even when what you're being offered is the best that best can be. The changeover of planets this week from Aries to Taurus insists that you commit to whatever offer, deal or proposal is on the table. It's not everything you want, but nothing is. Besides, finding ways to improve on it is the very thing that will seize your interest and get your creative juices flowing.

CANCER (June 20-July 21)
Even you will be surprised by what you're willing to risk this week. And the best part is — you've never felt more alive! Part of this mirrors what's going on in the heavens and part of it stems from years of playing it safe. Whether you're betting it all on love, work or that new diet, your chances for success have rarely looked so good. Go ahead and take a gamble. You won't be disappointed. If anything, this will whet your appetite for bolder moves to come.
---

LEO (July 22-Aug. 21)
Finances will be uppermost in mind when the Sun makes the switch from Aries to Taurus on the 19th. This typically happens around tax time, but you need to ask yourself some very real questions about long-term security and sustainability. You can't afford to continue living from paycheck to paycheck or transferring accounts between credit cards. Meet with a financial counseling agency and you'll soon discover ways to make your money work for you, instead of the other way around. All you need is a game plan.

VIRGO (Aug. 22-Sept. 21)
The clouds part on April 20. This is when you can expect to get that answer, remedy or inspiration you've been searching for. It's a bolt out of the blue and you will feel more energized and motivated than you have in weeks. However these sorts of revelations don't always square well with one's current circumstances. They often require some dramatic change or radical shift. A shake-up is in order, and you will have to decide if it's worth the trouble or not.
---

LIBRA (Sept. 22-Oct. 21)
You were born under the sign of the rule of law. When it comes to power struggles, you don't have to get tough with people — your lawyer does. Whatever the differences of opinion these past few weeks, a review of a contract, lease or termination clause will quickly show that you are not to be messed with. Help a boss, spouse or client to see the error of his ways, and you will find him toning down the rhetoric next week. You may even get an apology.

SCORPIO (Oct. 22-Nov. 20)
The Sun enters Taurus on Friday, which means that you will start to feel a creeping lethargy. It's always a struggle to keep it together during the time that the Sun is in your opposite sign (April 19 through May 19) because this is when its solar energy is weakest for you. A drop in self-confidence, vitality and even immunity levels is to be expected, so pace yourself accordingly. It's only four weeks of ordering your honey around to fetch you things, so it can't be all bad.
---

SAGITTARIUS (Nov. 21-Dec. 20)
Thursday is your last day as a "free" woman, so enjoy it while you can. Treat yourself to a blowout shopping spree or pampering at the day spa because your time will not be your own after the 19th. This marks the start of a grueling work schedule when you will be burning the candle at both ends for at least four weeks. It will be demanding and taxing, but it will also be worth it because you're laying the foundation for true financial security.

CAPRICORN (Dec. 21-Jan. 18)
Mars will toss one more bombshell your way on Wednesday before it departs the part of your solar horoscope that pertains to home and family. You'd love to ignore this latest insult added to injury, but it doesn't look like you will. It's time for you to hold family members accountable to the same standard of behavior that you'd expect from any stranger sitting next to you at the Cineplex. You're not doing them (or yourself) any favors by saying that things are OK when they're not.
---

AQUARIUS (Jan. 19-Feb. 17)
There's one last down-to-the-wire surprise request that you will be asked to field on Wednesday and Thursday. It will come from someone who has a chronic problem with doing things in a timely manner and your first reaction will be to ignore it. Yet the stars advise otherwise. Yes — helping this person out will be no small headache, but what you get in return will more than make up for the inconvenience.

PISCES (Feb. 18-March 19)
A fly-by-night money scheme is never the answer. And though this one will look like the answer to your prayers on the 17th, you would be well advised to skip it all together. The Sun/Mars conjunction shows that things that bloom quickly will spend themselves doubly fast. However if you are involved in some turnaround buying and selling, then the 18th is the day for you. You could emerge from this with a handsome profit.
More horoscopes
Your weekly love horoscope
Your weekly career horoscope
Your annual love horoscope for 2013