(page 2 of 2)
Too good to be true?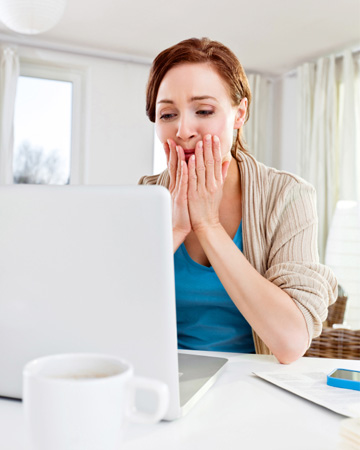 You know the deal
"OMG! What are you doing in this Facebook video?" Perplexed and alarmed, you immediately follow the link. Update my Flash Player? OK. And they have you. You've been scammed into downloading malware that will soon deliver your personal and financial information directly to your attackers... unless you know what to look out for.
Medical scams are highly profitable for scammers and potentially deadly to victims. With an especially virulent flu this year, online firms have taken to selling flu-fighting dietary supplements, oral sprays and generic versions of Tamiflu — which doesn't have a generic version.
Many pharmacy sites offer pharmaceuticals at discounts of up to 80 percent, which can be really tempting for people saddled with burdensome medical expenses. And while it's possible to save money, many of these sites don't require a medical history, prescriptions or even a doctor's name. In fact, many only require a simple questionnaire, which can lead to fatal errors. If you're interested in shopping on a particular online pharmacy, be sure to check them out with the National Association of Boards of Pharmacy first.
Another deplorable medical scam affects seniors. They are told that government subsidization for motorized scooters is theirs for the asking. All they have to do is provide their Medicare account number. If they're lucky, they'll receive a $300 wheelchair and the government will be billed $10,000. Worse, victims may be stuck with co-payments for things they have not received and their identity may be stolen and sold off. Never give your Medicare account number to someone claiming to be a government employee and be careful accepting the assistance of patient brokers offering groceries and gifts. Also, be sure to thoroughly review your Medicare Summary Notice for errors.
Exercise equipment and weight-loss solutions are often offered as free trials. These need to be shipped and require your credit card and shipping address. Once your trial has expired, unfortunate buyers regret not reading the very fine print, committing them to full purchase and automatic payments.
Auction fraud is perhaps the most prevalent scam on the internet, representing upwards of 75 percent of all complaints to the Internet Crime Complaint Center. Successful bidders may find that they never receive their auctioned item, or if they do receive an item, it may well be an empty box, promo code or link. File a complaint with the website and you could risk negative feedback from the scammer that can complicate your future honest transactions.
More treacherous still, they may ask the bidder to place money in an escrow account of their choosing. A reasonable and fair request — except there is no escrow account, just a phishing site designed to steal your money and account information. Always be sure you are using a legitimate, secure website when you're dealing with sensitive financial data.
5
Malware and motor homes
Unsolicited offers to remove viruses from your computer via websites, email and phone solicitations should be ignored. Never under any circumstance grant computer access to remote software without being absolutely certain of the identity of the installer.
People who answer online classified ads for cars, motor homes and apartment leases should also be leery, as they may be fooled by an overpayment scam and tricked into sending money to someone for something they don't even own. Be on the lookout for counterfeit cashier's checks and money orders.
As dangerous as the internet can be, many of these scams can be avoided with common sense and a healthy suspicion of unlikely deals and offers that are too good to be true.
More online safety tips
Cyber stalking: Self-defense tips to avoid cyber-bullying by your ex
How to stay safe while online banking
3 Basic approaches to online banking safety