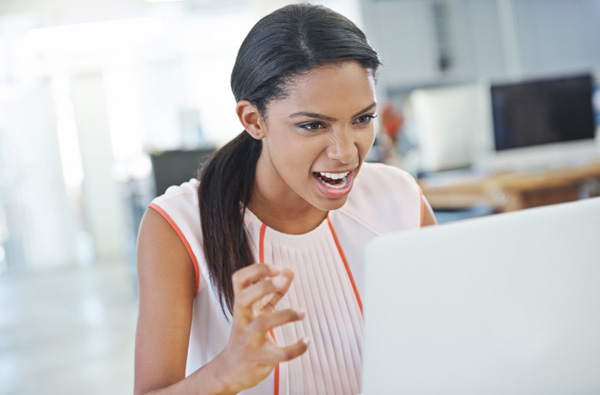 Keep your cool
You can expect things to get wild and crazy when Mars forms a conjunction to Uranus on Friday. A conjunction is the most powerful relationship between two planets in astrology, so it will feel as if somebody upstairs poured gasoline on the fire. This won't be good news if the situation is already volatile at work because things will only get more inflammatory; however if the problem has been with getting a boss or supervisor to take action, then you will see it. A Mars/Uranus conjunction is famous for holding people's feet to the fire.

ARIES (March 20-April 18)
You might want to dial down the razzmatazz on Wednesday, because you don't want to scare away any prospective buyers. You're passionate about what you do and your enthusiasm is certainly infectious, but there's a lot of fiery energy coursing through your horoscope nowadays, and it can be a bit much. Buyers want to be wooed, not steamrolled. Remember that less is more, and you will definitely score on Friday.

TAURUS (April 19-May 19)
You're going to have a tricky time doing business with ruling planet Venus traveling through Aries from March 21 through April 15. Venus tends to mix it up when she's in Mars' sign, so you have to watch it with the jockeying for position at work because colleagues will push back. You have to protect your interests of course, but you also have to find a way to be competitive without looking competitive.
---

GEMINI (May 20-June 19)
You were born under Mercury, the planet of last-minute saves, and you will see the cosmic cavalry arrive on March 19. This is when you will receive news that will literally save the day. It could be a grant, scholarship, reprieve, or loan. You won't enjoy the full benefit of this until June, but it will be nice to know that you will be financially covered until then.

CANCER (June 20-July 21)
The buildup of planetary energy at the top of your solar horoscope continues this week with the Sun entering Aries on Wednesday, followed by Venus on Thursday. Not only are you being pushed to push yourself, but you will meet people in high places who are looking to promote you like you've never been promoted before. All you have to do is throw your hat into the ring on Friday and that new position everyone's talking about will be yours.
---

LEO (July 22-Aug. 21)
You're not really into proving yourself. That's because you were born under the sign of the lion and lions just naturally see themselves as sitting on top of the food chain. Like where else would they be? However lions have to contend with hyenas on an almost daily basis and you will find that they are out in droves on Tuesday and Friday. This is when you are going to have to fight for your prize if you want to keep it.

VIRGO (Aug. 22-Sept. 21)
This week your lover or spouse will receive some game-changing news pertaining to money. Anything can happen when Uranian energy is strong, which is from March 20 through March 28. Mark these dates down on the calendar as your before and after days. Be ready for anything and trust that there really is an intelligent design at work. It will be the answer you've been looking for.
---

LIBRA (Sept. 22-Oct. 21)
You've always had a hard time speaking your mind, which is what makes the surge of planets in Aries so picture perfect for you. You will have no choice but to step up to the plate and to take charge of a tricky financial negotiation on the 22nd. No more hiding behind somebody else's skirts. You will finally get over your stage fright, and once you clear that hurdle, you'll see that you're a lot better at this than you thought.

SCORPIO (Oct. 22-Nov. 20)
This could be a very explosive week at work. Unexpected developments on the 20th are bound to throw everyone into a tizzy, so you can expect a lot of finger-pointing and buck-passing. You may have to do some major bitch-slapping on the 22nd to knock some sense back into people, but if anyone can do it and still land the airplane like Karen Black in in the movie "Airport 1975" — it would be you.
---

SAGITTARIUS (Nov. 21-Dec. 20)
People aren't going to pay you to be fabulous. It would be nice if they did, but it's not going to happen. However, they will pay you to make them feel fabulous, which is why you will want to go on the "butter 'em up" offensive on the 19th and 21st. Do that wonderful cheerleading thing that you do and you'll have a client and/or supervisor eating out of your hand by the 26th.

CAPRICORN (Dec. 21-Jan. 18)
Just when you had everything set, something will come along on the 19th that will totally change the playing field at work. At first it will look like just another headache, but don't be fooled. If anything, you will want to work with developments as they unfold. The introduction of a new supervisor or the reshuffling of the department roster promises to show you off in a new and better light.
---

AQUARIUS (Jan. 19-Feb. 17)
A pet project you assumed would take longer to put together will be put on the fast track on Friday. It's good news until you find out that rivals are angling to take over your brainchild. You'll need to move quickly to reassert ownership and to show that you are the right person for the job. You will also be expected to burn the midnight oil for the next couple of weeks, so pace yourself accordingly.

PISCES (Feb. 18-March 19)
Be careful making big purchases or finalizing deals on Tuesday. The first quarter moon in Gemini brings a "now-you-see-it-now-you-don't" sleight of hand trickery. It's great if you're the one doing the wheeling and dealing, because you will strike a bargain that will be the envy of competitors; it's not so great if you're the one being wheeled and dealed, as you could inadvertently give away the store. It all depends on which side of the shell game you're on.
More horoscopes
Your weekly love horoscope
Your weekly career horoscope
Your annual love horoscope for 2013 
---
The opinions expressed in this article are of the author and the author alone. They do not reflect the opinions of SheKnows, LLC or any of its affiliates and they have not been reviewed by an expert in a related field or any member of the SheKnows editorial staff for accuracy, balance or objectivity. Content and other information presented on the Site are not a substitute for professional advice, counseling, diagnosis, or treatment. Never delay or disregard seeking professional medical or mental health advice from your physician or other qualified health provider because of something you have read on SheKnows. SheKnows does not endorse any specific product, service or treatment.