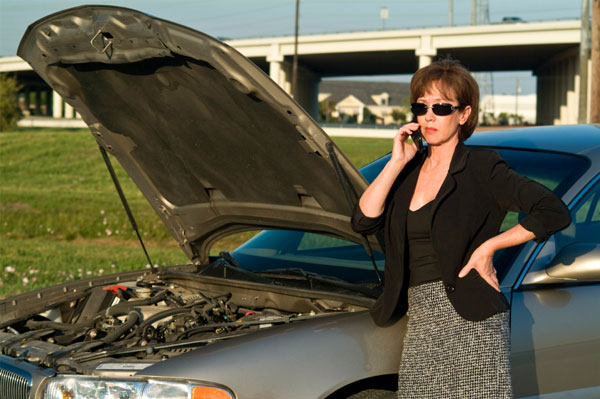 Be prepared for
a breakdown
Nobody plans to have their vehicle towed, but the reality is — towing happens. In 2012, leading roadside service provider AAA towed nearly 12 million vehicles to a repair shop. Be prepared and know what to do in the event of a breakdown.
Get to a safe location
"Being stranded with your vehicle can be a very stressful experience," says John Nielsen, AAA's director of automotive engineering and repair. "There are several things to remember that can help keep you safe and get you back on the road more quickly." The first is to get to a safe location. If your car is experiencing problems but can still be driven, AAA advises driving the car to a safe location, such as a parking lot — or at least completely off the roadway.
"If the car cannot get completely off the roadway, switch on the emergency flashers and consider leaving the vehicle and moving to a safer location," says Nielsen. The important thing is to exit the vehicle (on the side away from traffic) and to never stand directly behind or in front of a stranded vehicle.
Call for help
Once you're in a safe spot and out of your vehicle, call your roadside assistance provider immediately. Your options include AAA, your manufacturer's roadside assistance provider or a towing company.
Provide clear directions
Make it easy for the tow-truck driver to find you by providing your exact location, or describing your location — noting street signs, mile markers, landmarks, buildings and road signs. If you're feeling a little frazzled and need help pinpointing your location, download the AAA mobile app for iPhone and Android.
Just the facts, ma'am
AAA's handy What to Do When Your Vehicle Breaks Down guide recommends providing the following information when you call for roadside assistance:
Your AAA/CAA membership number or insurance information, if applicable
The phone number where you can be reached
Your location — exact address or nearest intersection or exit number
A description of your vehicle — color, make, model and year
Your vehicle's license plate number
The nature of your problem — for example, if you ran out of gas, have the service provider bring gas to you and avoid a costly tow. (This may seem obvious, but in a stressful situation, you might forget.)
Any circumstances that may require special towing or transport considerations, such as an unusual vehicle, large number of passengers, infants, medical needs and whether your vehicle uses diesel or an alternative fuel.
Decide where to tow your vehicle
If you're lucky enough to know how to fix your own vehicle (or have a partner with mad automotive skills), you can have your vehicle towed directly to your home. If you're like the rest of us mere mortals, you'll need to provide the tow-truck driver with the name and address of the location where you'd like your vehicle towed. Most likely this will be your dealership or car repair shop. If you're not sure where to have it towed, AAA has a list of AAA-approved auto repair facilities that's available to both AAA members and non-members at AAA.com/Repair.
More automotive advice
Texting versus drinking: Which one hinders drivers more?
"Lemon law" and how it protects your purchase
10 Tips for driving green