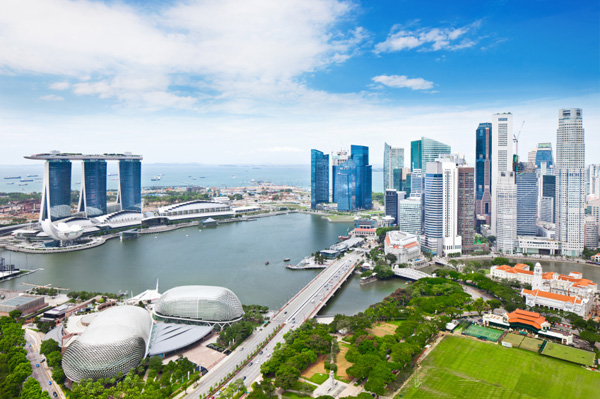 Why go
From state-of-the-art architecture and massive mega-malls to gorgeous green spaces and awesome cultural experiences, there are plenty of reasons to say "yes" to Singapore this year. We're giving you the goods on where to eat, where to stay and what not to miss.
Sleep
We felt instantly at home at the newly-opened (in January) PARKROYAL on Pickering, a cool, calming oasis in the heart of bustling Singapore. The modern design, clean lines and eco-conscious mandate, along with a convenient location, make this a smart choice for vacationers and business travelers alike. We especially loved the inviting infinity pool overlooking the Singapore skyline (grab a funky-colored sunbed by the pool to while away a few hours) and the seemingly endless array of tasty breakfast options at Lime, the property's sleek main floor restaurant.
A stone's throw from the shopping mecca of Orchard Road, the grand, ultra-friendly Regent Singapore is another fabulous place to rest your head for a few days. Large, bright rooms, evening turndown service, ever-smiling and always helpful staff and some great dining options (including the relaxed yet chic Basilico) make the Regent an ideal place to stay for couples, families and business travelers.
Quick tip: Hungry? Malls in Singapore have excellent food courts with many options that go well beyond the fast food found in most American malls.
Shop
Singaporeans love to shop — something immediately evident by the amount of shopping bags everyone seems to be carrying and the dizzying array of malls and shopping areas around every corner. If you want to spend some hard-earned cash like a local, your first (and likely only) stop should be iconic Orchard Road. Any designer brand name you can think of can be found here, along with smaller labels and even some more obscure shops and brands you can only find in Asia or Europe. Shopping is a sport here — prepare yourself for crowds (all with an array of bags) and get ready to pounce on anything you love (and are willing to spend your money on).
Savings tip: Eating at a coffee shop in Little India or Chinatown will save you money. Beer and food are much cheaper here than in other parts of Singapore.
Explore
Chinatown and Little India offer a glimpse into a completely different side of Singapore. If you feel like seeing something slightly outside of the perpetually orderly nature of Singapore life, these two culturally diverse neighborhoods make for an interesting afternoon. Shop, try out some local treats, and get lost among the abundant stores, markets, cafes and coffee shops (kind of like mini hawker centers, outlined under "Eat") in each area to get a taste of another side of Singapore.
Travel tip
: If you're in need of a snack or drink after wandering the gardens, head to nearby
Dempsey Hill
, a small enclave of restaurants, cafes, bars and shops within walking distance (about 15 minutes) from the gardens. We stumbled upon Tawandang Microbrewery, a lovely, authentic Thai restaurant that also happens to be a microbrewery serving an array of German beers. Go figure.
Escape
Take a break from busy city life with a half-day trip to the well-manicured and sprawling (and also free) Singapore Botanic Gardens. The gardens are just a short walk from the Regent Singapore (or take the MRT to Botanic Gardens station), and strolling among the lush gardens — we were particularly enamored with the rainforest — is great way to spend a few hours.
Eat
Chowing down at a hawker center is an absolute must for anyone visiting Singapore. Along with shopping, locals take eating very seriously and there are ample opportunities to grab a bite every few steps. Hawker centers are basically large, covered food courts containing a variety of food stalls. Wander around to see what's being offered, grab a spot to sit (locals put a packet of tissues at empty tables to claim them) and order your food. If the stall says "self-service" that means you wait for your meal to be ready and then take it back to your table. If there is no mention of self-service, simply point in the direction of your table and the stall proprietor will bring you your meal. Check out Maxwell Street Hawker Center and Lau Pa Sat for lots of choices and an exuberant atmosphere.
Next
Pack your bags and join us next time when Frequent Flier heads to Paris to check out some fabulous museums beyond the Louvre.
More travel tips and trends
How to travel with a toddler
5 Must-see spots in Central America
Plan your dream vacation now