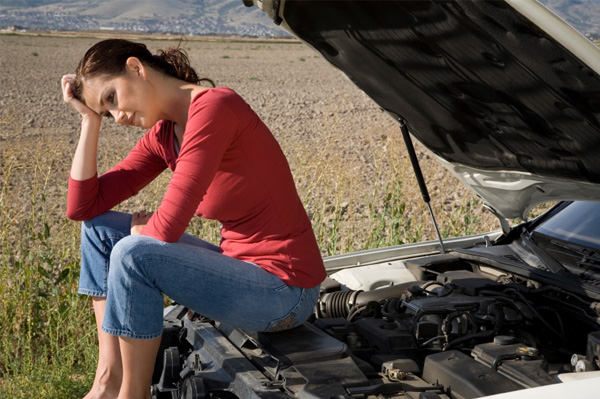 Smart tips when
you're stuck
Lynette Kittle of Colorado Springs, Colorado, did not expect to be stranded with her family on the side of the road in 113-degree desert heat. But she was. Make sure you are prepared and follow these smart tips if you ever get stuck.
When Lynette Kittle and her family started toward Palm Springs, they had no idea they would wind up 70 miles from the nearest town, stuck in the middle of the desert, being chomped on by sand flies.
William A. Begal, president of Begal Enterprises Inc. Disaster Restoration Specialists, says, "Most people never think it will be them, so they don't plan."
Luckily, the Kittle family did take the time to lay some groundwork prior to their trip, and that planning meant that they were stranded for only a few hours rather than days before rescue.
Smart tip 1: Think about the worst-case scenario
While no one likes to expect the worst, it is smart to have a plan. If you are traveling into a remote area, what will you do if you are in an accident and are pinned in the car? Think about keeping emergency items within reach. William Begal suggests keeping things like an air horn, solar radio and cell phone close by — on your body if possible. While chances are good that you won't find yourself in such a dilemma, being prepared for the worst is just plain smart.
Smart tip 2:  Think about your car
Your vehicle can be your greatest asset if you are stranded.
John Z. Wetmore, an independent television producer who makes safety videos, says, "[It] provides shelter from the elements and is relatively easy for rescuers to spot, so if it is safe to stay in the vehicle or with the vehicle, that would be the first choice. If you can move your vehicle, get it as far over onto the shoulder and out of the travel lanes as possible. This is especially important during fog, smoke, dust storms, snow or other weather conditions where approaching cars will not see your vehicle until it is too late to stop."
The Kittle family was smart and pushed their car safely to the side of the road and then used the vehicle to "ke[ep] a low profile, [and we] had our daughters stay out of sight so as not to attract any roadside predators."
Smart tip 3: Think about the elements
Weather is one of the main things to consider when heading out on a trip. Make sure to keep an eye on road and weather reports before and during your trip. Since the Kittles knew they would be traveling across the desert, they stocked the car with water to help them stay hydrated.
If you are traveling in cold and wintry conditions, Begal suggests, "[Keep an] old down sleeping bag tightly packed... [Keep your] car full of gas, never, never letting the tank go below half — three-fourths is best. [Make sure you have a] cell phone charger, a shovel (small is OK) and kitty litter for traction."
If you are heading to a remote area, Wetmore recommends, "Be sure to let people know where you are going and when you should be back. If you are going to try to hike out, be sure you brought proper hiking gear for any weather — GPS, maps, compass and other navigation gear — and leave a note on the dashboard of your stranded vehicle telling any rescuers who come along what you are doing and where you are going to try to go."
Smart tip 4: Think about help before you need it
The Kittle family called their roadside service as soon as they knew they were stuck. Make sure your roadside service membership is current before you head out. Also, if you are in a serious emergency, everyone in the vehicle should know how to call 911 (or whatever the emergency number is if you're outside the USA).
Smart tip 5: Know your route
The Kittle family ended up in a predicament because they "trusted a shortcut through the desert that Yahoo! maps suggested."
The towns that appeared on the map were deserted. Be sure you are familiar with your route and have multiple maps or guides before you set out.
For more tips on staying safe, check out AAA Exchange.
Be an expert on the road with these reads
Taking care of your car — a year at a glance
Getting a new car? Consider these insurance essentials
Brush up on these driver's ed lessons