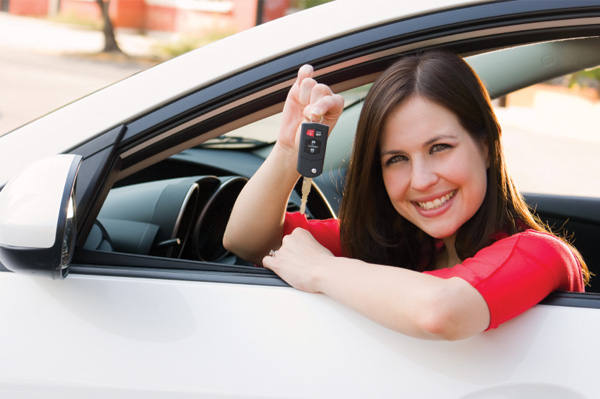 Expert test-drive tips
You've done your research and narrowed down your choices, and now you're ready to take a test-drive. So what should you look be looking for? We asked automotive guru (and former dealership owner) Christina Selter of HerHighway.com to share her top test-drive tips.
Go during the week
"I prefer to test-drive cars on Tuesday or Thursday," says Christina Selter, editor of women's automotive site HerHighway.com. "Dealers on Monday are busy with weekend sales tally, and normally Fridays are the sales meetings to kick off goals for weekend sales."
Selter advises always avoiding weekend test-drives. Make sure the salesperson and the car are ready for you by scheduling your test-drive in advance.
Go solo
The first time you test-drive a vehicle, Selter advises going on your own. This will allow you to give your full attention to evaluating the vehicle.
If you have kids, Selter suggests heading back for a second test-drive with the family "to be sure it will be the correct car for your lifestyle."
Bring the car seats and make sure it's easy to get them in and out of the vehicle.
Take your time
Selter explains that dealers typically allow 20 minutes for each test-drive, so you should complete several test-drives before making up your mind.
"Some dealers allow you to take the car home for a day," says Selter.
She suggests checking with the general manager of the dealership to see if that is an option. (Be prepared to provide proof of insurance and a valid driver's license.)
Explore the interior
You're going to be spending a lot of time inside your vehicle, so take the time to explore the interior. If you're like most women, you need a place to stash your purse, phone, sunglasses and more. Take a good look at the interior well to make sure it fits all your "stuff." If you have kids and pets, Selter recommends paying close attention to the climate-control system.
Dual climate control is "very important on a hot summer day" for cooling the rear seats and rows.
Test different driving situations
Ask the salesperson if you can take the car through a few different driving routes. Selter suggests testing the car on both highway and city neighborhood streets. Next, take it to a grocery store parking lot to evaluate its maneuverability and ease of parking. Sound like a lot to cover in one 20-minute drive? Selter suggests taking multiple test-drives for that very reason.
Quick tip:
For more test-drive tips, check out AAA's comprehensive test-drive guide
More car buying info
10 Things to consider when buying a new car
Hot rod at heart: Cars for girls who like to drive fast
Green goddess: Best cars for eco-friendly gals