Trunk organizer
Before you even think about stocking up your trunk, start by clearing out all that junk and popping in a trunk organizer. Try a Google image search for "trunk organizer" and pick the style and size that best fits your car. We love the cheery print on this three-section foldable trunk organizer from Brookstone. (Brookstone, $44)
Load up your trunk organizer with these items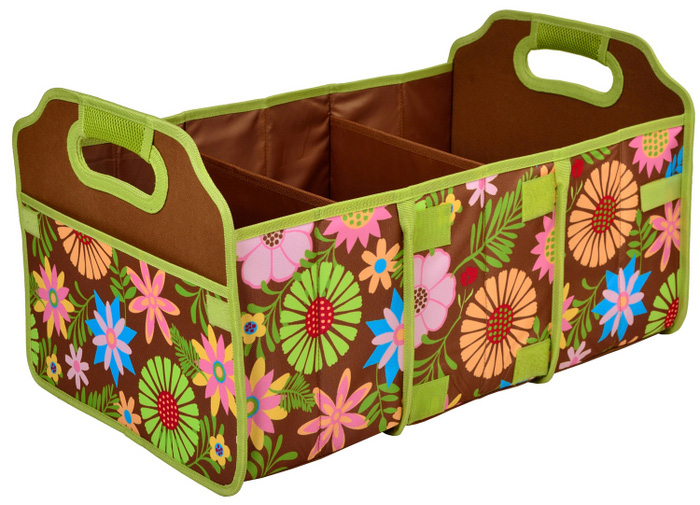 Jumper cables and printed-out instructions. (There's no shame in stashing a "cheat sheet." It's not every day you have to jump-start a vehicle!)
Tire pressure gauge. We like the easy-to-read dial and the $3 pricetag on this model from Harbor Freight.
Rain gear and a blanket. A nylon-backed stadium blanket can be used for warmth or spread out on the damp ground for a picnic. (ApparelnBags, $23)
Flashlight and spare batteries. This Eton American Red Cross Road Torq is both a flashlilght and a flashing beacon that can help make your disabled car visible to oncoming traffic. (Amazon, $25)
Stash a small first aid kit (Best Made, $45) in the trunk and be prepared to treat minor injuries on the go. Chances are you'll never experience a car fire, but it's always a good idea to have a small fire extinguisher (Home Safety Matters, $21) in the trunk, just in case.
Oil, coolant and funnel
Paper towels and rags
Small tool kit
Gloves
Bungee cords. The Perfect Bungee cords are made of a special polyurethane formula instead of rubber or latex, so they won't crack, break or split. (Amazon, $9)
Tote bag
A flat-bottomed canvas tote bag (or two) is perfect for storing items you'll want to access on a regular basis. This new Women's Solid Capri Tote from Lands' End is big enough to hold all the essentials and can double as a beach or shopping tote. Plus, at only $39, it's both practical and affordable.
Fill your tote with these essentials and stash it in the trunk for easy access
Quick tip:
The Container Store
is a great source for products that can help you organize your trunk supplies.
Snacks and water. Go for snacks that won't spoil anytime soon. Energy bars, trail mix and pretzels are all good options.
Reusable grocery bags. We're a little in love with the new designs from Baggu.
Plastic freezer bags
Antibacterial hand wipes. Stash the individually wrapped hand wipes so they won't dry out.
Pad of paper, pens and pencils
More automotive tips
Be prepared: What to do when you're stranded
How to change a flat tire
Driving safely with baby on board