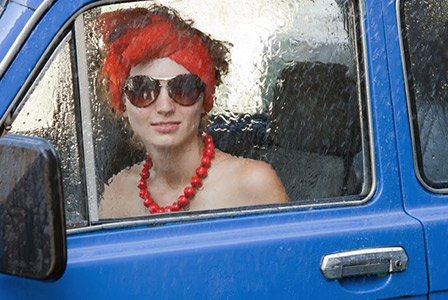 It's just rain, right? Wrong. Rain completely changes the dynamics of driving. You and your vehicle have to make major adjustments to prevent rainy-day accidents.
be safe on wet roads
The experts at SmartMotorist.com understand the driving challenges wet roads present. With their tips — and some caution and common sense behind the wheel — you can navigate rainy trips with confidence.
Prepare for a rainy day
Keeping your car in tip-top shape is your No. 1 priority for driving safely in rainy conditions.
Replace old, brittle or broken windshield wipers at least once a year and keep your windshield clean — both inside and out.
Make sure your headlights, taillights, brake lights and turn signals are in good working order.
Keep an eye on your tires — bald tires do not provide necessary traction.
Drive with caution
Wipe your feet
Dry the bottoms of your shoes before you start the car. Wet shoes can easily slip off the pedals.
Turn off the cruise control
Your reaction time is slightly decreased when your foot is off the gas pedal. There's also the possibility that your cruise-controlled car will accelerate if you hydroplane.
Take your time
Speeding is never a good idea, but even regular speeds can present a problem on slippery roads. Slow down. Your car can't stop as quickly in rainy weather, so rather than constantly applying the brake, try to maintain a lower overall speed.
Don't tailgate
It's always important to keep a safe following distance between you and the car ahead of you, but it's critical to do so when the road conditions are tricky. Additionally, the spray created by the vehicles in front of you can reduce your visibility.
Stay between the lines
Ideally, you should drive in the tracks of the car ahead of you. At the very least, favor the middle of the road and avoid the shoulder, where pooled water can pull at your vehicle.
Use headlights
Rain is typically accompanied by overcast or foggy conditions. Your headlights will help you see — and they'll help other drivers see you. Also, stay on the lookout for brake lights in front of you.
Note: Avoid both moving and standing water. It's impossible to judge how deep or shallow a puddle might be. Don't take a chance — even the largest vehicles can become stranded. If you have gone through water, tap your brakes lightly to help the rotors dry.
What do to when something goes wrong
The first few hours of rainfall are the most dangerous. The new rain mixes with oil and grease on the road and creates a very slippery surface. When the water surface begins to build, your car can hydroplane. No matter how good the treads on your tires are, your car is completely without traction when it's hydroplaning. If you start to hydroplane, try not to turn the wheel or brake suddenly. Slowly release the gas pedal and keep the steering wheel straight until your tires regain traction.
Download an emergency app
Accidents happen on rainy roads. EmergenSee turns your smartphone into a personal 911 service. With a simple tap of a button, the patented technology provides a direct line for help by allowing you to share/stream live video and audio from your exact location as well as your movements via GPS. Send your info to preset friends and family or directly to your local public safety office.
Note:
If you live in a rainy area (like the Pacific Northwest or along the coast), you may be well-served by investing in tires designed for wet weather. Options like the
Goodyear Assurance TripleTred All-Season
have better wet traction than your standard all-season tire.
Read more about cars and driving
Keep that body clean with the right car wash
Tips for driving in the snow
Driving lessons from the go-kart track to the highway