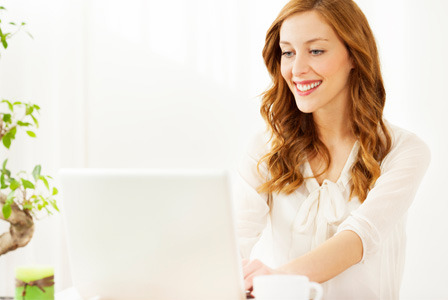 These days, it seems like your business doesn't exist if you aren't on the internet (which is a problem if you already need more customers).
How to take your business online
If you work from home and have considered taking the plunge into the wide world of the web, we'll help you decide whether you need a website and how to get one that fits into your price range.
When do you need a website?
You almost always need some form of web presence. These days, you're just not a business if people can't find you online. Like it or not, the internet is where most people do their research. Word of mouth is great, but it takes ages to convert referrals into customers, and most of them won't come through. On the internet, you have a ready pool of people to expose your goods or services to, giving you many more opportunities to turn interested parties into real customers.
What kind of website do you need?
It would be great if we could all afford beautiful custom websites, but sometimes that's not possible or practical. But there are other alternatives.
If you're a crafter, for example, you can set up an Etsy shop pretty easily. If you're a writer or design professional, consider websites like Behance or Dribble, which allow you to create a profile and upload your portfolio. You could also opt to create a website using an online blogging platform like WordPress or Posterous, which allow you to add extra pages and attach your site to a custom domain.
If you want a real website, QuickBooks and Squarespace (among others) offer templates that you can customize for your business for a monthly fee.
The drawback to these types of solutions is the lack of control. You're stuck with the design templates they have available and those templates could be used by thousands of other businesses. With QuickBooks and Squarespace, you should also consider that the monthly fee may eventually mean you've paid more for a template than you would have for a custom site designed by a professional.
Tip: Stay away from templates that you can purchase and then customize (unless it comes from or is recommended by a designer you know). They're often riddled with bad code and aren't as flexible as you might be led to believe. And if you hire a designer later to help you fix it, it may cost more than having one designed from scratch.
The eternal question: DIY or hire a pro?
It's tempting to save yourself some cash by designing your own website. You can learn code, right? How hard can it be? We encourage you to rethink that unless the website you're designing is for your web design company. The solutions above are more appropriate for those who are determined to build their own.
Web design is actually very complex. It's more than just knowing where to use div-tags and how to get more cell padding (if those terms confuse you, skip straight to the next section or back up to the one before). A designer also has knowledge of current design trends, SEO, usability, web standards and more, all of which can affect how high your website is ranked in Google (violating some of these standards can actually cause your rank to go lower!). They also understand the eternally frustrating concept of getting your site to display nicely no matter what browser someone's using.
But more importantly, a well-designed site attracts customers. A poorly designed one will turn them off. Think of your site as the clothes you wear to a job interview. Who's more likely to get a sales job? The guy wearing jeans and a hip tee? Or the put-together gal in a sleek, tailored suit? Just because something doesn't look bad doesn't mean it's appropriate. How your website looks speaks to your customers just as much as the text on the site.
Talking turkey: What's this going to cost?
The price of a professionally designed site varies based on the quality and experience of the designer, the area you live in, how big you need it to be and even what special features (like a shopping cart) you need. You should get quotes from several designers with portfolios you like (that contain sites for businesses of a similar size to yours).
Ask for the quote to be broken down into cost per item so you can decide what you can compromise on if it's too much. The reality is, your site could cost $500 and it could cost $5,000. It depends on what you need, but most home-based businesses should be on the lower end. Be prepared to pay an additional fee for a professional writer who understands how to speak to customers (which leads to higher conversions) and SEO writing.
There's also the yearly cost of owning the domain and hosting. A domain will cost $10 or less a year (unless someone else already owns it and wants to sell it to you for a higher price) and hosting will cost around $100 a year.
Ideas to lower the cost of a custom site
Sometimes, getting your website to a price you can afford is as simple as a little creative thinking. If your quote comes back too high, try one or more of these ideas.
Get more quotes — is it possible you chose a designer who's just outside your price range? Jason Santa Maria is going to cost a pretty penny, trust us.
Ask the designer if there are any creative solutions to get the quote down. Often, they just quote on what you requested, but that doesn't mean they can't use a pre-fab shopping cart instead of building it from scratch. They know about a multitude of third-party solutions you could use.
Contact a local university or design school to inquire about having a web design student work on your site under the supervision of the professor. You'll pay less because they're not pros, but you can still be confident that the teacher will make sure your site looks professional. They'll be glad for the extra cash and the learning experience (and may even be able to parlay it into extra-credit or internship hours).
Consider a trade. Web designers need or want other goods and services, too. If you're a writer, you could offer to write her website in trade. Or perhaps he's an avid cook and would like a custom mortar and pestle made. Just keep in mind it may not be a straight trade if what the designer wants from you is less expensive than what you want from him or her (or vice versa).
More for work-at-home moms
Working Mom 3.0: Toot your own horn
Everything I know about business I learned from Gordon Ramsay
Chasing the dream: How getting an assistant helped me
---
The opinions expressed in this article are of the author and the author alone. They do not reflect the opinions of SheKnows, LLC or any of its affiliates and they have not been reviewed by an expert in a related field or any member of the SheKnows editorial staff for accuracy, balance or objectivity. Content and other information presented on the Site are not a substitute for professional advice, counseling, diagnosis, or treatment. Never delay or disregard seeking professional medical or mental health advice from your physician or other qualified health provider because of something you have read on SheKnows. SheKnows does not endorse any specific product, service or treatment.