I'm slightly obsessed with photo booths, mostly because they are extremely fun and family friendly — my favorite combination. This particular idea is great for any age range!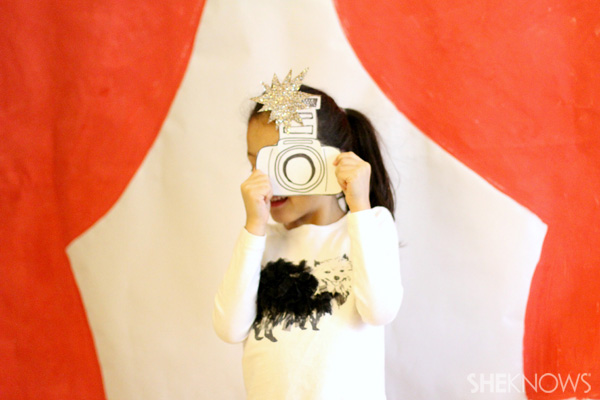 Ready to get started and to accept your award for being such a crafty DIY-er?
Supplies:
Butcher block paper (on a roll) or bulletin board paper (you can buy this in the teacher's supply section of any craft store)
Red poster paint
Paint brushes and/or rollers
Tape
Hot glue gun and hot glue
Paper
Cereal box cardboard
Wooden dowels, or medium-gauge wire (I'll show you how to make these with a coat hanger)
Wire cutters
Ribbon
School glue (like Elmer's) 
Glitter
Marker (I used a Sharpie)
Sunglasses (as additional props)
To make the photo booth backdrop:
If you use butcher block paper you will need to roll out two long lengths of about 3-4 feet long.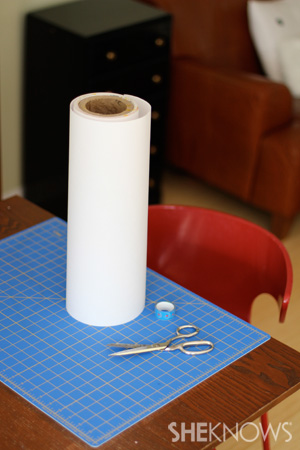 Carefully edge the pieces next to one another and tape together. If you use bulletin board paper, you can skip this step.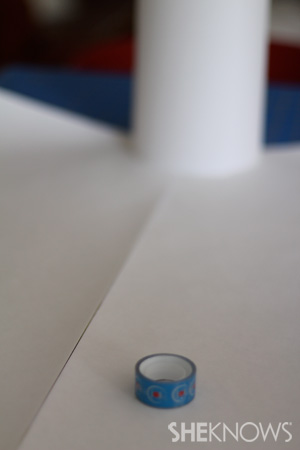 Tip: Be sure to water your poster paint down a tad and you will cut your painting time almost in half.
Using poster paint, you will create your Oscar-worthy curtains. You can paint your curtains on with a roller brush or a regular paint brush. I found that the regular paint brush was actually easier to use than the roller.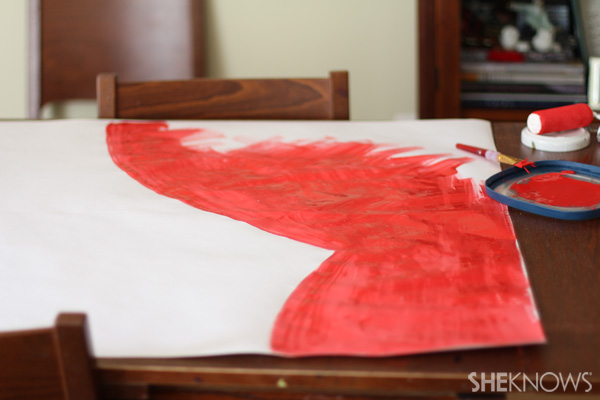 Allow your paint to dry. It will take anywhere from 30 minutes to one hour to dry completely.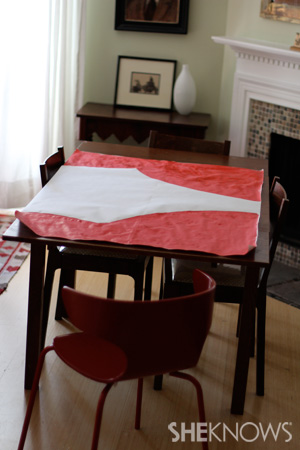 You are finished! Now, hang your Photo Booth backdrop (we taped ours to a closet door) and the next step is to make your props!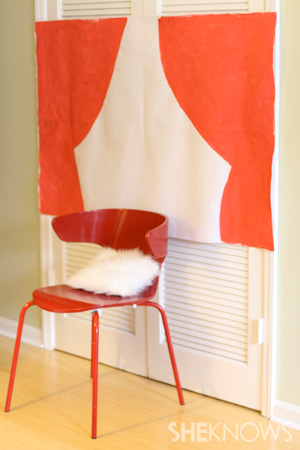 To make the props
To make your props you will begin by cutting up the cardboard from a cereal box.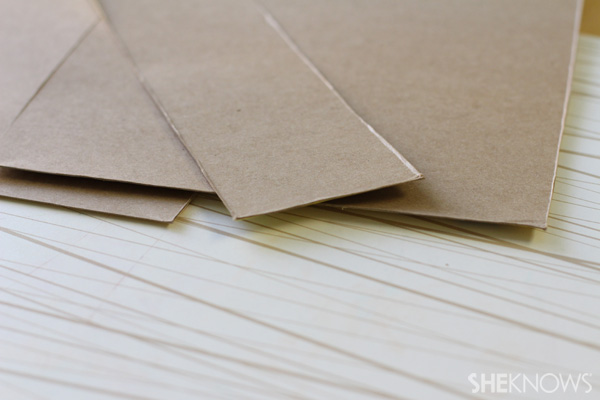 If you don't want to run to the craft store for wooden dowels, you can create holders for your props out of wire (from a coat hanger) covered in ribbon. Simply cut the bottom length of a wire coat hanger off in two snips with your wire cutter. Then cover the piece of wire (using hot glue on both ends) with ribbon, by twisting it around the wire from beginning to end.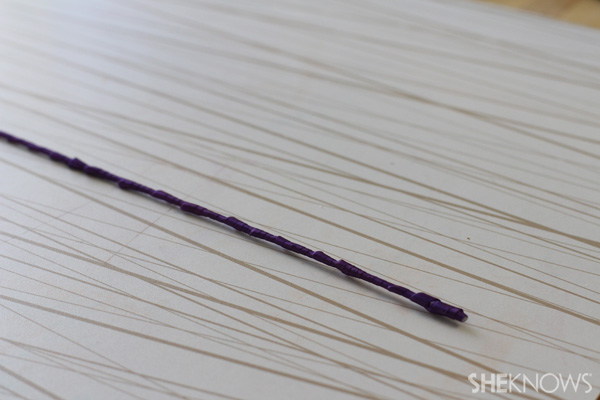 Using a marker, draw the shape of your props (ideas: big diamond bling, cameras, an Oscar statuette, a tux bow tie, a tiara, etc) using simple lines.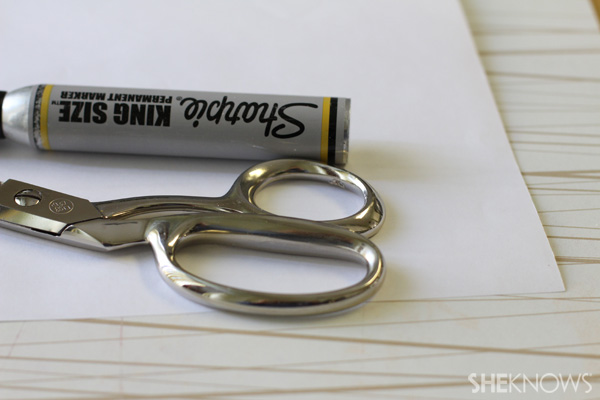 Glue the paper onto the cereal box cardboard with school glue. then allow to dry completely. Once dry, cut out the shape of your prop.
Once you've finished cutting out your prop, use your hot glue to glue on your ribbon-covered wire or wooden dowel.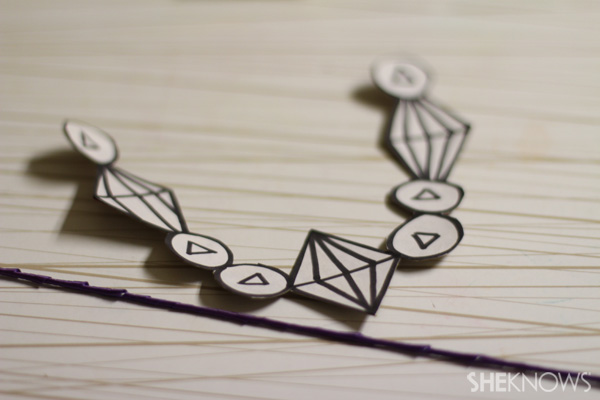 Use glitter to cover your Oscar Award and make a star covered in glitter as well to attach to your camera for a "flash".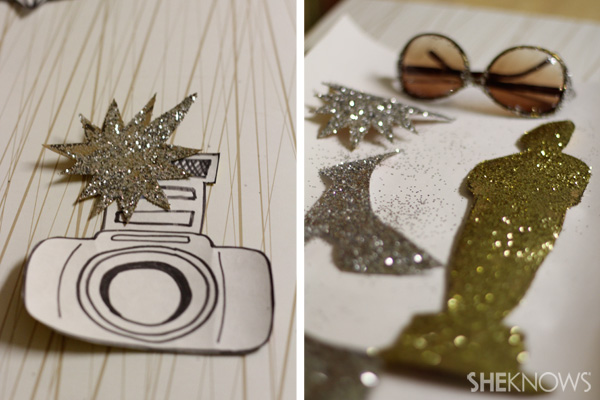 Tip: Your glittered props may bow or curve a little (due to the moisture from the glue) but that's okay. Once completely dry, you can press them under a stack of books and that will flatten them out.
Glittered props look great in photo booths. To glitter your props, draw the shape of your prop directly on cardboard, then cover completely with a thin layer of school glue. Sprinkle with glitter and allow to dry.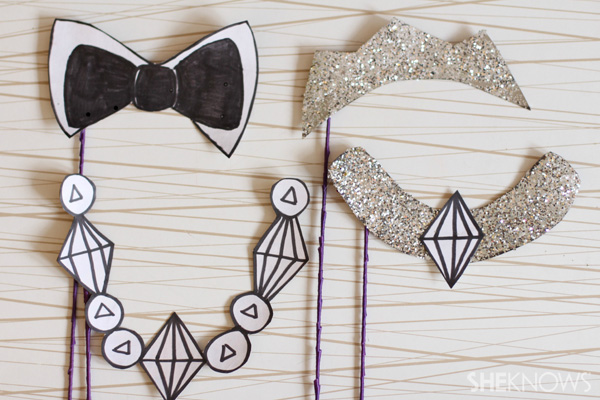 Done!
Guess what? You are finished! Your props are complete, your Photo booth backdrop is complete and you are now ready to accept your Academy Award and pretend that you are shocked that you won!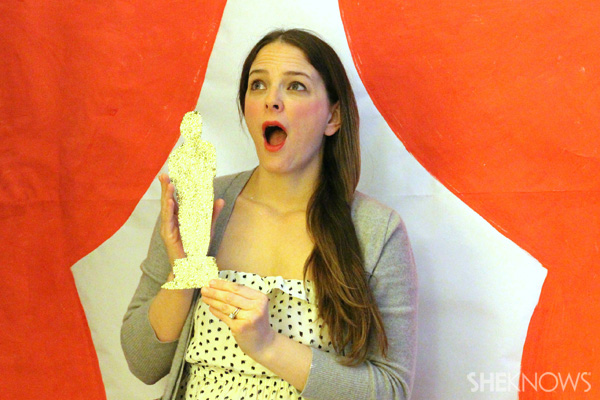 Who me?
Now, go and have a blast!
More award show party ideas
Grammy's cocktail party menu
From dining to decor: A sneak peek at the Governors Ball
Glitzy Oscar party tips and recipes