Putting the "fun"
in fundraising
There's a new kid on the fundraising block and it is called Crowdrise. Crowdrise puts a fun spin on donating to your favorite cause, and it's quickly gaining popularity with celebrities and social media gurus. Here's the story of how the creators got started and where they are going.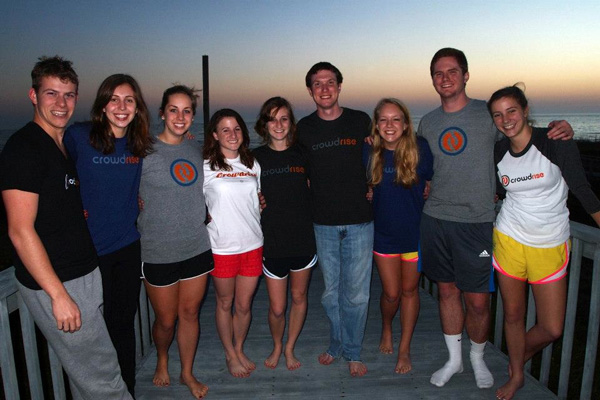 Crowdrise is the site that puts the fun back in fundraising. With celebrities like Jimmy Kimmel and Danny DeVito as some of its most dedicated users, the founders of Crowdrise struck philanthropic gold when they made their dreams a reality. SheKnows had a chance to talk with one of the creators of Crowdrise, Robert Wolfe, about the site's success and how you can put a new spin on your next charitable giving campaign.
SheKnows: What gave you the idea to start Crowdrise?
"We've found it's very important, especially to the younger generation to show that you have a charitable life and the way you give back."
Robert Wolfe: My brother and I originally began working together in the retail industry and developed Moosejaw, where we specialized in clothing and athletic and outdoor gear. In 2007 we sold Moosejaw, and my brother and I said something to the effect of "let's doing something great and change the world."
We realized that there was no one out there making the charity space fun and capturing the younger audience. We thought if we could make giving back fun, we could have the impact we wanted to have.
Soon after our conversation we reached out to a friend, Shauna Robertson, to see if she wanted to create something with us, and it ended up being the perfect scenario. Her boyfriend, Edward Norton was getting ready to run the New York marathon and he offered to use it as a case study for Crowdrise.
SK: Can you give us the basics of how it works?
RW: Crowdrise is basically a friend-to-friend fundraising site. If you were going to run a marathon or raise money for a food bank you could go to Crowdrise and build your own microsite, your own personal page to raise money for your cause.
It is not just a one-time tool to raise money for a campaign and then leave. You have your own profile where the charities you commit your time and energy to "live." So if you raise money for a charity in Africa and then decide to volunteer at a local shelter, it's all in one place. Your profile shows what matters to you. We've found it's very important, especially to the younger generation, to show that you have a charitable life and the way you give back.
SK: You've done a great job at combining social media with fundraising. Do you think this has helped the success of Crowdrise and its users?
RW: Making it easy for users to share the message any way they want is key. We want to make it share-able by any means possible.
People like it because we try to make it cool. We have people committing to different fun things to raise money. People offer to dye their hair purple or give up caffeine once they hit a certain dollar amount. They are having fun and really getting into it.
SK: There is a long list of celebrities behind Crowdrise. What makes it so attractive to them?
RW: When we launched, we each emailed the site out to about ten friends, and Shawna and Edward emailed ten friends, most of them being celebrities, so that was what gave us the initial boost. Ultimately, we make it so easy to raise money right from your couch that celebrities are attracted to Crowdrise by that aspect.
Ian Somerhauder from Vampire Diaries raised $120,000 in a month for his cause plus won a $50,000 prize and his average donation was $25. He got such high numbers because he was great at using social media and reaching out and he didn't have to leave his couch. That appeal is working. He beat out some of the biggest celebrities we've had on the site because he was awesome at it.
SK: Any tips for someone who is ready to start a campaign on Crowdrise? What helps to make a fundraising campaign so successful?
RW: There are two things you have to have for a successful campaign:
a message that people are going to understand, a simple message that will appeal to the $25 donor,
people to tell that message to. If you don't have an audience or a way to capture an audience it will be hard to bring in any donations.
If you can make it fun it makes it so much better. If two people raise money for the same thing but one says they will shave their head if they reach their goal and the other raises money the traditional way, the one who made it fun will be much more successful.
SK: How about for someone out there with an idea in their mind they would like to take to fruition? What's your best advice?
The hardest part is the execution. You can have a million ideas but staying focused and actually getting it done is the hard part. Having a great idea is awesome but actually making it work is a whole other story. Make sure you have the bandwidth and resolve to execute whatever vision you have because no matter how hard you think it will be, it will be ten times harder.
More on charitable giving
Leading celebrity philanthropists of 2012
Support your favorite cause by shopping online
Dash out and donate
---
The opinions expressed in this article are of the author and the author alone. They do not reflect the opinions of SheKnows, LLC or any of its affiliates and they have not been reviewed by an expert in a related field or any member of the SheKnows editorial staff for accuracy, balance or objectivity. Content and other information presented on the Site are not a substitute for professional advice, counseling, diagnosis, or treatment. Never delay or disregard seeking professional medical or mental health advice from your physician or other qualified health provider because of something you have read on SheKnows. SheKnows does not endorse any specific product, service or treatment.