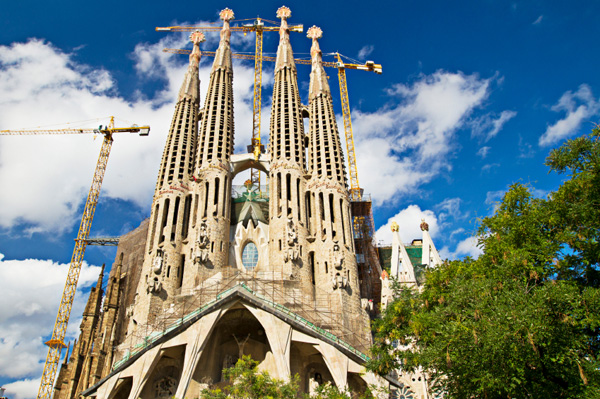 Sagrada Familia
Prepare to be awed as you enter the iconic cathedral that remains a work in progress after more than 100 years. Construction started in 1882 and Antoni Gaudi took over the next year, working on the enormous project until his death in 1926. You could easily spend a couple of hours (or more) exploring fascinating gothic architecture, intricate carvings on every surface you sweep your eyes over, and taking in the impressive size of the cathedral, which is also a UNESCO World Heritage site.
Boquiera Market
Treat yourself to a wander through this bustling maze of a market filled with everything from food stalls and candy shops to seafood, produce and spices. Old men sit and talk sipping espresso while families shop and tourists gawk. Even if you don't buy anything, just taking in the sights and smells as you move through the crowds is a satisfying sensory experience. We couldn't resist snapping pictures of colorful spices, piles upon piles of fresh produce and the small stalls selling our favorite Catalan snack, chocolate con churros (essentially thick hot chocolate with fritters you dip in the creamy elixir).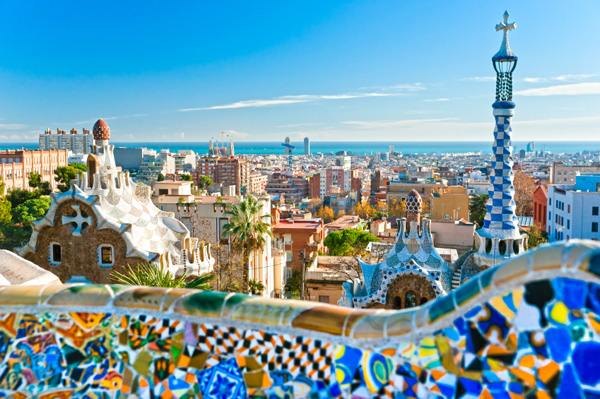 Park Güell
Sprawling Park Güell is like no other park we've ever seen. More fantasyland than traditional green space, the Gaudi designed 42-acre park (also a UNESCO World Heritage site) feels like a work of art, sculpture garden and a playground all rolled into one. Walk up the expansive staircase at the park's entrance toward the terrace that offers a photo-worthy view of the whimsical architecture below as well as the whole city. Need a rest? Take in the gorgeous view as you sit on the long serpentine bench (known to be the longest bench in the world) covered in bright mosaic tiles.
Las Ramblas
There's no better spot to people-watch than Las Ramblas, the busy tree-lined pedestrian mall in central Barcelona. Tourists and locals flock to the area where they can stroll among the many shops, bars, restaurants and markets. At any point you could see a street performer getting ready to entertain the passersby, a cage filled with flapping birds for sale, any number of souvenir stands, benches filled with fellow people-watchers and tourists snapping photos. It is crowded so going in the morning when the area is slightly quieter is a good time to experience Las Ramblas. Grab an espresso or chocolate con churros and take a seat while you enjoy breakfast sans crowds.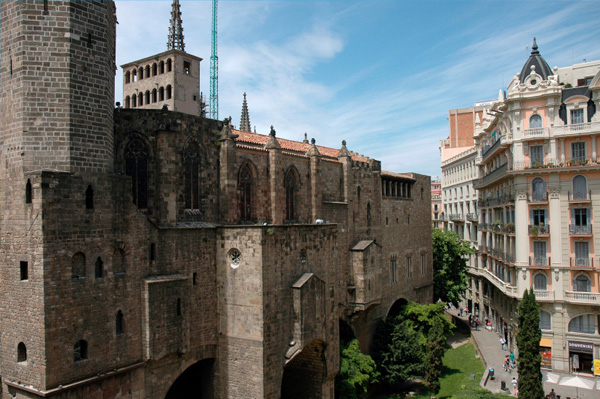 Gothic quarter
It's well worth getting lost amid warrens of alleys in Barcelona's Barri Gotic or Gothic quarter. We gave up the guidebook here and simply explored the charming area with no real destination or goal other than to see as much as possible. Filled with cafes, tapas bars and shops, you could easily spend half a day discovering something new (a place to get coffee here, a place to grab a snack there) at every turn.
El Born
Another neighborhood on our can't-skip list is El Born, where we found ourselves on a visit to the Picasso Museum (also worth a trip in its own right). Shop, eat, drink and people-watch in close proximity to the beach (just a 10 to 15 minute walk from the area) and Park Ciutadella. El Born is also home to the well-curated Textile Museum and Santa Maria del Mar, a beautiful gothic church also worth a trip to the neighborhood.
If you go
Rest your head at simple yet chic Hotel Jazz which we found to be in a great location in the heart of all the action and close to three metro stops. You can also walk from the property to several tourist attractions making it an ideal choice for anyone on a tight timeline. The clean, efficient design and friendly service made us feel right at home, and we loved the rooftop pool and terrace.
Up next
Pack your bags and join us next time when Frequent Flier heads to Merida, Mexico.
More travel tips and trends
A winter getaway in Niagara Falls
Why go to Guatemala's lake district
8 Items that should always be in your carry-on bag