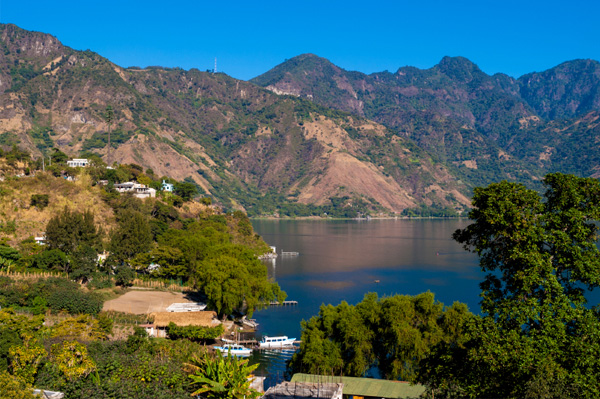 Why go
More and more people are choosing Guatemala's gorgeous Lake Atitlan as a vacation location, and we're not surprised. Clear water, awe-inspiring scenery and boutique hotels make this on-trend spot a must-visit. We were instantly besotted with its cool blue charm. Visitors can choose from a number of lakeside communities, but it was the enchanting village of San Marcos La Laguna that caught our eye. Any stress we felt before arriving melted away with our first dip in the lake.
Where to sleep
Built into a hillside with breathtaking views of the surrounding lake and volcanoes, Hotel Aaculaax offers two secluded suites and four well-appointed rooms, each one individually designed and featuring one-of-a-kind artworks and locally made furniture.
Hotel La Paz is a sprawling series of small bungalows, featuring cool, clean rooms set in a pretty and well-kept tropical garden. There is a vegetarian restaurant on the premises, along with a large yoga studio where 8 a.m. classes are perfect for early risers.
Note: Street addresses are rare in San Marcos, but the establishments mentioned here are all on the (tiny) main street. If in doubt, ask around!
Where to eat
Start your evening with some tasty tapas and glass of wine at Il Giardino. The laid-back garden setting, twinkling lights and delicious food make this a great spot for predinner snacks and cocktails.
For a romantic outdoor dining experience, try Restaurant Fe. The restaurant's British owners take their curry seriously and offer several varieties brimming with fresh ingredients and aromatic spice blends.
What to do
Most of the hotels have docks leading straight down to the beach. Nab a spot on the sand if you're feeling social or up on the rocks if you want a bit more privacy. A good portion of our San Marcos visit was spent swimming in the cool, clear water and soaking up the sun.
San Marcos is a great place to indulge in a massage. Swedish, Thai and deep tissue massage are all available. Casa Amarilla and the San Marcos Holistic Centre are good places to start, but check with your hotel, too. Many offer on-site massage therapy.
Adventure seekers should definitely plan to spend a day visiting one of the other lakeside villages. Panajachel and San Pedro are both great places to check out museums, parks and countless cafes and restaurants. Simply hop on a boat at the dock where you arrived and inform the captain of your destination.
Getting there
Take a bus from Antigua to Panajachel (either local transport or arrange a private shuttle with your hotel). Panajachel is your jumping-off point for exploring the lake district. From here, head to the dock to take a small ferry to your island of choice.
Up next
Pack your bags and join us next time when Frequent Flier heads to beautiful Barcelona.
More travel tips and trends
Where to island hop in the Bahamas
Planning a cruise for the family
Budget travel: Warm winter vacation getaways