(page 2 of 2)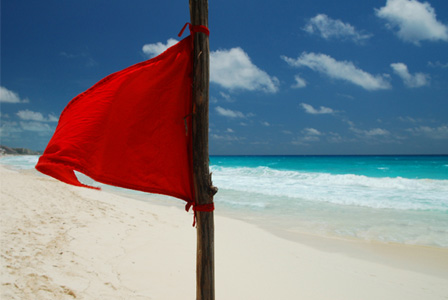 From falling out of an airplane to plunging your car into a lake, you never want to end up in any of these dangerous, potentially fatal situations. But if you do, you need to be prepared and remain calm in order to survive.
How to survive
almost anything
Riptide
One second you are happily swimming in the ocean, the next you are caught in the riptide and being moved out to sea... and fast. Don't panic. The riptide is typically no more than 15 feet wide. So the easiest thing to do to get out of it is to swim parallel to the shore. You'll feel like you aren't accomplishing anything, but you'll normally be able to get out of danger very quickly. If you are tired, turn and float on your back to get a breather.
Crowd stampede
Crowded clubs, concert halls and other venues can become a death trap if the crowd begins to stampede. Whenever you are in a crowded venue, always take a mental note of the location of the exits. If you are trapped in a stampede, zigzag through the crowd toward the exit with your arms positioned in front of yourself like a boxer to protect your head and chest. Stay on your feet — that's the key to survival. If you do fall down, get back up as quickly as possible. If you are near a wall, stay near it and work your way until you reach an exit.
Free-falling elevator
Despite what you may have heard, the key to surviving a falling elevator is not to jump right before impact. It's extremely difficult to push off the floor of a falling elevator, plus you can't jump high enough to make a difference. Elevator shafts have a crumpling pad at the bottom to reduce the impact. You want to create more padding to supplement that pad. Lay on the floor of the elevator with your coat or bags underneath you. Lay on whatever side of your body is the chubbiest — whether that's your butt or belly. Protect your head and face with your arms and pray for the best.
Shark attack
Remain calm at the first sign of a shark. If the shark hasn't started attacking yet, then you need to get out of the water as quickly and calmly as possible. If you are near your boat, stay still and call loudly (yet calmly) for your friends in the boat to come get you. If you are near the shore, swim smoothly and quickly, avoiding splashing if possible. If the shark has begun his attack, typically you won't be able to outswim an aggressive shark, so be prepared to fight. Aim for the shark's eyes, gills or snout (his only vulnerable areas) with your fists, elbows, knees and feet — punching, clawing and kicking with all your might. Repeatedly jab, kick and claw at these areas with hard blows. If the shark sees you as a threat, he may retreat. If he does, immediately get out of the water and seek medical attention, even if your wounds seem to be superficial.
Choking when alone
Though it's frightening, don't panic if you begin to choke while alone. If you can cough or speak, then your airway isn't completely blocked, and forcing yourself to cough may dislodge it. If you can speak, call 911 immediately. You can perform the Heimlich maneuver (abdominal thrusts) on yourself to dislodge the object. Place your fist with the thumb side against your abdomen, slightly above your navel. Grab you fist with your other hand and deliver a quick thrust, inward and upward. You can also lean over the back of a chair, countertop or railing, thrusting hard enough to try to expel the object. Repeat until the object is dislodged.
More about survival
Would you survive a disaster?
How to survive in a sinking car
Preparing a family disaster plan