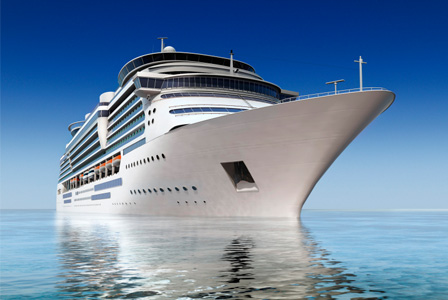 A cruise can be a fabulous choice for a family vacation. When booking your trip, look for a cruise line with creative kids' programs, family-friendly excursions and other onboard fun for the whole family.
Cruising with kids
Where to go
Before booking your cruise, scour through the different itineraries to find the best options for your family. Though exploring ancient ruins might sound fun to you, it might not be a great choice for young kids. Research all the available port activities and excursions and find out if there are any age restrictions. You don't want to be stuck somewhere with nothing to do with your kids. Cruises with beach destinations in the Caribbean and Mexico are often the best for families. Whether you have toddlers or teens, everyone loves the beach.
Length of the trip
Consider the length of your cruise as well. Short cruises are typically just three or four nights long. Many families find that's not enough time to really enjoy themselves. However, short cruises are budget friendly — and you won't have to take that much time off work. Many travelers find a week-long cruise to be ideal. With a seven-night cruise, you'll probably stop at three or four ports, and also have plenty of time for fun on the ship during days at sea.
Kids' programs
Though you'll love spending time with your kids on the ship and in port, there will be some times when you want to be kid-free. Whether you want to escape for a romantic meal or a relaxing afternoon at the spa, you'll want to make sure the cruise offers plenty of enjoyable activities and programs for kids. Most cruise lines offer some sort of kids' program — ranging from basic daycare services to kid-friendly entertainment areas to extensive, flexible all-day programs. Check different cruise lines for details. Do they have a nursery for babies? Do young kids need to be potty-trained to participate in certain activities? Is there a designated program for teens? Do they have a separate swimming or wading pool for young kids? An arcade? Any other kid-friendly activities and events?
Also take into account whether the kids' programs close at certain times throughout the day or during mealtimes — many do. However, some offer extended hours. For example on Disney Cruise Line, their youth clubs are open from the morning through very late in the evening. Your kids will even be fed lunch and dinner in the club, if you don't want to drag them back to the main dining room. Recently, our family took a cruise on the Disney Magic out of Galveston and my 4-year-old son really enjoyed their Oceaneer Club and Oceaneer Lab.
Cabin options
Families will want to book an assigned cabin so that you know exactly what to expect. Get a look at the layout of the room online to make sure that it is suitable for your family needs. For large families, ask about suites or deluxe rooms with bunkbeds for kids. If larger staterooms aren't available in your price range, then inquire about rooms with adjoining doors — or at the least right next to each other or directly across the hall.
What's included
When pricing your family cruise vacation, make sure you understand completely about what's included in the base price. Is all the food at every restaurant included or are you limited to certain restaurants during particular hours? What about alcoholic beverages — or any beverages for that matter? Is room service extra? Are the fees for babysitting or other kids' programs included? Is internet available? How much is it?
Whether you book your cruise on your own or through a travel agent, do your research on the internet and get all the details in writing before officially reserving the cruise with your credit card.
How to save
For the fiscally-minded family, there are plenty of ways to save money on your cruise vacation. In fact, some cruise lines even offer "kids sail free" and other family specials during certain times of the year. Keep in mind, that the most expensive cruises are generally during the summertime and around the holidays. If you have the flexibility to vacation at other times of the year — particularly in the winter — you can find a cheaper rate. What's great is that most cruise destinations like the Caribbean are pretty warm all year-round.
tip
Remember when packing for your trip that most cruises have at least one semi-formal or formal night. So you'll need dressy attire. Also ask about your cruise line's dress code for the main dining room. Some don't allow tank tops, shorts or flip flops at dinner — even for kids. Don't forget the sunscreen, bug spray and bathing suits. And pack a sweater — even in sunny climates, it cools down at night.
More about cruises
Ships ahoy: Your guide to the perfect cruise vacation
5 Best cruises for teens
Disney Magic: Overcoming fears and making new friends