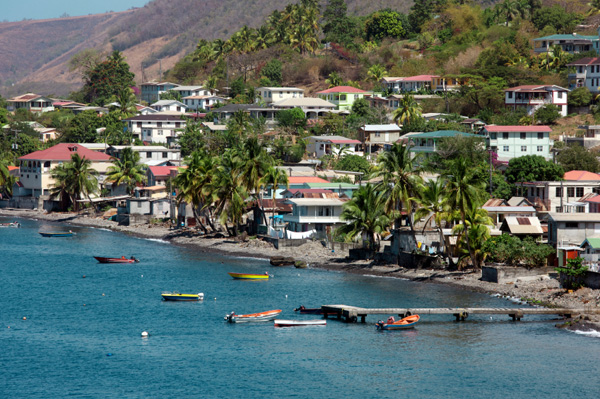 Where is it?
Known as "the nature island," Dominica (not to be confused with the Dominican Republic) lies south of Guadeloupe and north of Martinique in the eastern Caribbean. Only about 70,000 people inhabit the 289.5 square miles, and the majority of the population lives in and around the lively capital city of Roseau — meaning the rest of the island is ripe with opportunities for adventure and discovery.
So what can you do on the island? From hiking and diving to water sports and whale watching, there's something to satisfy every traveler.
Take in the natural beauty
If you love nature — nature that's unspoiled and un-crowded that is — we're pretty sure you're going to love Dominica. Tropical forest covers a whopping two-thirds of the island, which boasts 1,200 plant species, more than 170 bird species, more than 1,000 species of flowering plants, 74 identified species of orchids and 200 types of ferns. Gorgeous rivers, lakes, streams and waterfalls abound, fed by the high annual rainfall. So grab your camera and start snapping!
Spot some whales
Dominica is known as the whale watching capital of the Caribbean — with good reason. The island is home to least 20 species of whales and dolphins, including humpback whales, pilot whales and the spotted dolphin. Dominica is the only country in the world where the sperm whale resides all year, although you're most likely to catch a glimpse between November and March. IslandStyle offers whale watching trips for $65, along with fishing and sightseeing tours.
Quick tip: Head to the magical Ti Kwen Glo Cho where you can soak in large outdoor copper tubs filled with hot sulphur water while the healing waters trickle over you in a series of interconnected bamboo pipes. Oh, and it's in the middle of the rain forest so the setting can't be beat. You really can't blame us for wanting to stay all day.
Soak in a hot tub
Possibly one of our favorite experiences in Dominica, Wotten Waven, in the southeastern corner of the Roseau Valley, is an area of geothermal activity with volcanic fumaroles and sulphur springs where you can soak your cares (or pains) away. Visitors to this area can relax and rejuvenate after an active day swimming, hiking or diving. Sulphur is believed to have positive body benefits, including skin rehydration, joint and muscle pain relief and mineral replenishment.
Go diving
Underwater addicts will be immediately at home on Dominica, which happens to be rated as one of the top 10 dive locations in the world. Huge stands of coral and sponges, batfish, electric rays, Caribbean reef squid, sea snakes and sea urchins are just a few of the creatures you might encounter. Don't miss the "Champagne" dive site where you can swim through warm bubbling waters created by geothermal vents. It's kind of like what we imagine diving into a glass of sparking wine would feel like.
Break a sweat and take a hike
When we first heard that Dominica was home to the world's second largest Boiling Lake (the largest is in New Zealand), we were intrigued. Situated in the Morne Trois Pitons National Park, Dominica's Boiling Lake (average temperature is 200 degrees F) is a must-see and makes for a picturesque (if challenging) hike.
Pretty Morne Trois Pitons National Park (a UNESCO World Heritage Site) has nearly 300 miles of footpaths, countless streams and waterfalls, and a well-established national parks system to make for some of the Caribbean's most awe-inspiring adventures. We also checked out the park's Boeri Lake, located in the crater of an old volcano, and Trafalgar Falls is a must if you love waterfalls.
Getting there
Air travelers can connect to Dominica on American Eagle, BVI Airways or LIAT from the surrounding hubs of Puerto Rico, Antigua, British Virgin Islands, St. Maarten, Barbados and St. Lucia. We took a short LIAT flight from Antigua to get there.
If you happen to be on a nearby island, The L'Express Des Iles ferry service brings passengers to Dominica from the islands of Guadeloupe, Martinique and St. Lucia.
Up next
Pack your bags and join us next time when Frequent Flier heads to exciting El Salvador.
More travel tips and trends
Get to know 4000 Islands, Laos
Top 5 organic spas in the world
5 Expert travel tips