There are three main tourist spots to visit within the 4000 Islands: Don Khong, Don Dhet and Don Khon, and we found ourselves on Don Khon. Take a relaxing vacation in this southern Laos hot spot, featuring a friendly vibe and gorgeous riverside views.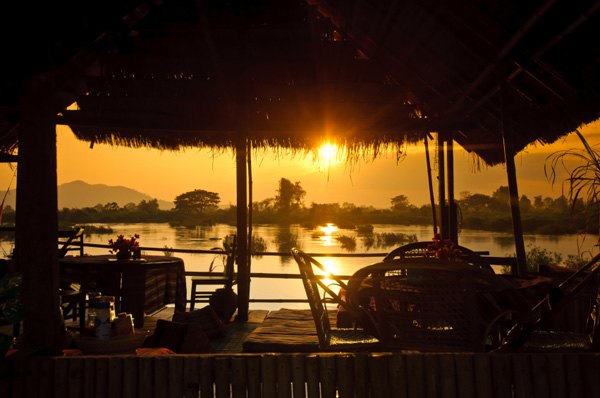 Where to sleep
We were truly impressed with the tranquil simplicity of Sala Don Khone (rooms start at $30, including breakfast). Snap up one of the three floating studios with stunning island views, or the lovely Ban Lao rooms offer private balconies to watch riverside life unfold.
You can't go wrong with a room right on the stunning Mekong River, which is what you get at Pan's Guesthouse (rooms start $20). We were awed nightly by the spectacular sunsets from our riverfront balcony. Rooms are large, airy and well appointed.
Where to eat
Quick travel tip: There are no ATMs on the island so bring plenty of Kip (local currency) before you arrive to avoid running out of money.
Most guesthouses also offer restaurant service, including our two picks above. Sala Don Khone in particular boasts a beautiful floating restaurant, featuring local favorites like sticky rice and papaya salad (delicious for lunch) or aromatic curries and seafood dishes.
Pan's restaurant is a great place to get a quick bite or check your email over a cold Beer Lao or fresh fruit shake (try the banana coffee if you need a kick). Wi-Fi is conveniently free if you're staying at the guesthouse.
Otherwise, a short walk (or bike ride) along the dusty main road will net dozens of small, family-run spots for a tasty local meal.
What to do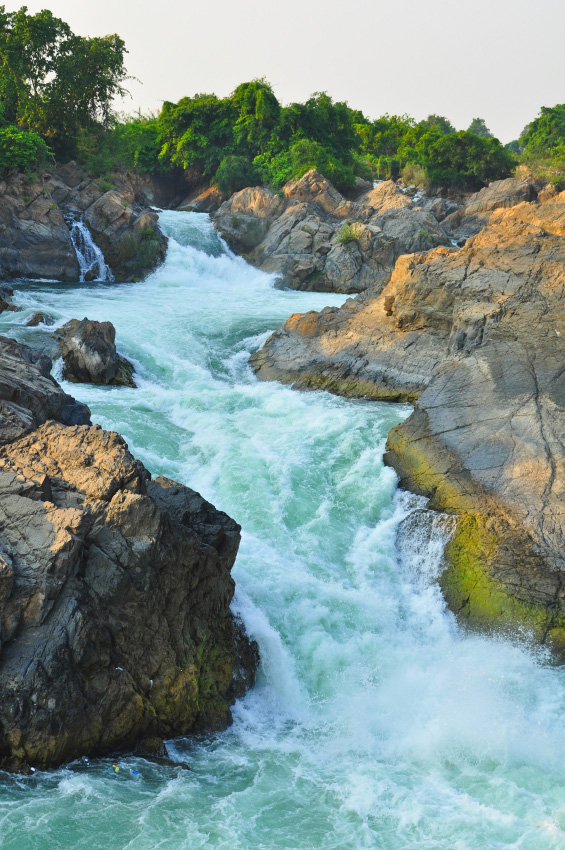 If you're not sipping a drink at one of the restaurants overlooking the river or taking a refreshing dip in the Mekong, we suggest a walk or bike ride (most guesthouses rent bicycles for about $2 to $3, which is a great way to explore the island) to Li Phi Waterfall. The powerful falls are about a 25 minute walk from the center of the island (there are plenty of signs to point you there) and are truly awe-inspiring.
Since this is a fresh-water island, sand is scarce, but the small beach about 20 minutes (again, just follow the signs) from the main drag is worth a visit for its crystal clear, emerald water, craggy rock faces reminiscent of what you might see in cottage country and glimpse into traditional village life (you'll likely spy fisherman hoping for a bite from their long-tail boats).
Feeling lazy? Rent an inner tube (about $1), available at many guesthouses and find a spot to float down the river. The current can be strong at times so do be careful. We saw some people simply tie their tubes to a tree for worry-free floating.
Take a walk across the bridge to sister island Don Dhet, grab a fresh fruit shake at one of the small bars, or find a hammock to while away a few hours. The walk across the bridge that connects Don Khon and Don Dhet is about two miles and a makes a for a picturesque stroll.
Getting there
Many people (including us) started in Pakse, the largest southernmost town in Laos. Pakse is easily accessible by bus from other parts of the country. Green Discovery, a tour operator in Pakse offers daily transportation to the 4000 Islands, as well as fantastic guided tours, hikes and overnight kayaking trips. The also offer a one-day sightseeing trip to the 4000 islands should you want to check it out without staying there.
up Next
Pack your bags and join us next time when Frequent Flier heads to the sunny Caribbean island of Dominica.
More travel tips and trends
Insider's guide to cool Copenhagen
What to see and do in Nassau
Foodie's guide to Paris