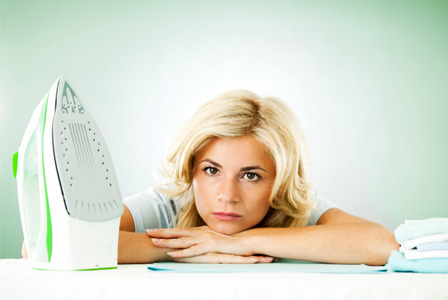 You may be the "home CEO" but even Fortune 500 corporate executives have lots of help!
Know when too much is not a good thing
In this issue of Working Mom 3.0, writer Stephanie Taylor Christensen offers three ways to recognize when it may be time to outsource some of your overload.
You're doing many things you're not good at
One of my favorite perks of being a freelance writer covering the entrepreneurial beat is the opportunity to pick the brains of successful small business owners. Interestingly, one of the "hindsight" tips I hear most often is the importance of having the self-awareness (and humility) to outsource the tasks you don't do well so you can focus on your natural gifts. In a recent interview, Penny Sansevieri, CEO of Author Marketing Experts, Inc., said that though it's "a scary step for an entrepreneur to not 'do it all yourself,' you simply can't grow that way." In fact, she says the minute she outsourced her accounting needs, her company grew, simply because it freed her up to focus her talents in other areas.
You dread more than you enjoy
When you find yourself loathing most of what awaits you in the day, it's a certain sign that your proverbial work-at-home plate has runneth over. In my prework-at-home life, for example, Fridays were always a welcome arrival: I had lunch with co-workers, did yoga as my workout, got organized for the workweek ahead, and the weekend was right around the corner. Now, that I'm working at home, however, Fridays have become a day of self-imposed dread, and it's all because I've designated it as "cleaning day." Recently, I actually heard myself tell my toddler (in a very negative tone), "Well, Noah. It's Friday. You know what that means… " It was in that moment that I realized that my own stubbornness at sticking to a rigid system caused me to despise a precious day. As a cost-effective solution, I worked out a new system with my husband: He will handle the laundry on the weekends, allowing me to knock out my Friday cleaning tasks in far less time and add some "breathing room" in my busy week. What tasks could you outsource that have significantly taken the joy out of your day? (An honest aside: This can include child-related tasks — like not wanting to take kids with you to the grocery store!)
You've lost time for you
Being a parent is the ultimate exercise in selflessness, but when you've lost all sense of what you (as a woman, not a mommy) enjoy, it's time to call in reinforcements. If you can't remember the last time you did something for pure, selfish enjoyment, whether it's reading trashy tabloids, relaxing in a bubble bath, hitting the gym or simply catching up with great friends, you're playing with fire. Let go of the guilt and remember that a regular investment in your mental and physical health is far cheaper than the aftermath that will ensue from burying your personal needs over the long term.
Working Mom 3.0
The modern woman is redefining what it means to have a successful career. Rather than feeling torn between climbing the corporate ladder and having a happy family life, many women are choosing to merge the two and transition careers from a traditional role to a more flexible one. Working Mom 3.0 is reinventing the definition of "working mom," as office hours are held at home and revolve around nap times.
This column begins by chronicling the experiences of Stephanie Taylor Christensen, a former marketing professional turned self-employed stay-at-home mom, writer and yoga instructor, as she strives to redefine "having it all" on her own time and terms.
More tips for working moms
Working Mom 3.0: Boost your income
Working Mom 3.0: Leverage your skills
Working Mom 3.0: 3 Ways to benefit from failure
---
The opinions expressed in this article are of the author and the author alone. They do not reflect the opinions of SheKnows, LLC or any of its affiliates and they have not been reviewed by an expert in a related field or any member of the SheKnows editorial staff for accuracy, balance or objectivity. Content and other information presented on the Site are not a substitute for professional advice, counseling, diagnosis, or treatment. Never delay or disregard seeking professional medical or mental health advice from your physician or other qualified health provider because of something you have read on SheKnows. SheKnows does not endorse any specific product, service or treatment.