We share some of the best places to eat, stay, shop and have fun in this multifaceted island capital.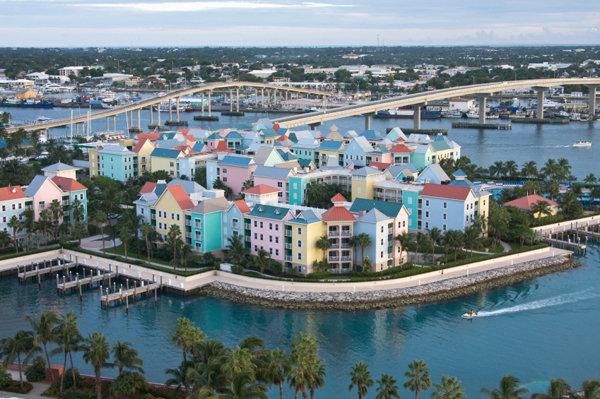 Stay
From small guesthouses and boutique hotels to large-scale resorts, there are accommodations for every taste and budget in Nassau.
With its attentive service, sophistication and picture-perfect shorelines, One & Only Ocean Club is one of the most exclusive destinations in the Bahamas. The luxurious hotel offering guestrooms, suites and private villas (all including private balcony or patio and personal butler) has hosted a mix of celebrities, politicians and even royalty during its 50-year existence.
If you're looking for something more intimate (and a little bit playful), check out Compass Point Beach Resort. The relaxing resort right on the beach features 18 brightly colored, well-appointed huts lining cute cobblestone walkways. We love the fact that it's just outside the busy downtown area, but still easily accessible to all the action.
Shop
No visit to Nassau is complete without a visit to the world-famous Straw Market on Bay Street where you can brush up on your bartering skills while checking out the local works from island artisans. The market features 34,000 square feet on the ground floor and an additional 4,500 square feet on a second floor, full of colorful wares and ample souvenir-buying opportunities.
While on Bay Street, don't forget to check out the myriad designer boutiques where you can pursue well-known luxury brands such as Gucci and Cartier. Bonus: Shop tax-free! Effective Jan. 1, 1992, the Government of the Commonwealth of The Bahamas abolished all import duties on items such as perfumes, jewelry, watches and china — just to name a few. To tell if a store is a duty-free shop, simply look for the duty-free logo: DFS.
Eat
Enjoy a wide variety of cuisines in Nassau, from Bahamian fare to international dishes. If you want to eat like a local (highly recommended), check out the fish fry at Arawak Cay, which boasts several lively outdoor dining options and Bahamian delicacies like conch fritters, a must-try while you're visiting.
A step away from Arawak Cay is Graycliff Restaurant (worth a trip for their award-winning wine cellar). Since 1988 Graycliff has won the prestigious Wine Spectator Grand Award with a cellar of more than 250,000 bottles from more than 400 vintners in 15 countries. The elegant five-star restaurant offers international dishes with a Bahamian twist.
We were instantly smitten with the fresh, local produce on the menu at Goodfellow Farms, a family owned and operated farm, country store and restaurant. The family grows greens, herbs and heirloom tomatoes without chemical pesticides. The menu changes daily (it's conveniently posted on their Facebook page), but expect expertly grilled fish (we loved the mahi mahi served over red and white quinoa), salads, soups, sandwiches and pizzas from their outdoor pizza oven.
Do
While you're in the Bahamas, we suggest a visit to Dolphin Cay. Located on the grounds of Atlantis, Paradise Island, the 14-acre dolphin habitat is one of the largest and most sophisticated of its kind. Dolphin Encounters allow visitors to meet and interact with the dolphins in either a shallow or deep waters experience. While you're there, don't miss the sea lions and stingrays that also call the lagoon home.
Ardastra Gardens, Zoo and Conservation Centre offers a great way to spend a few hours, especially if you have kids. The 5-1/2 acre park is home to hundreds of mammals, birds and reptiles from around the world, including many endangered species from the Bahamas and the greater Caribbean. Don't miss the marching flamingo show, held three times daily.
No trip to Nassau is complete without some time (in our case several days) spent on the beach. One of our favorites is Cable Beach, white sand, crystal blue waters and lots of opportunities for relaxing and soaking up the sun (wearing SPF, of course).
Insider tip: For something a little quieter and off-the-beaten track, head to Love Beach, a small but gorgeous stretch of sand much less frequented by tourists. The nearby reef makes it a perfect spot for snorkelling.
Getting there
Delta offers nonstop service between New York-LaGuardia and Nassau, Bahamas. Flights operate daily and fares begin at $99 each way.
Travelers from Baltimore, Maryland; Richmond, Virginia; Louisville, Kentucky; and Raleigh-Durham, North Carolina, can book nonstop flights to Grand Bahama Island via Bahamasair.
The Spain-based Baleària Group, offers fast ferry service between Port Everglades, Florida, and Freeport, Bahamas (Grand Bahama Island). The 2.5 hour trip runs daily (except Wednesdays) and fares start at $49 each way.
More travel tips and trends
Lesser-known Maui destinations
5 Ways to see Paris like a local
Get to know Antigua, Guatemala