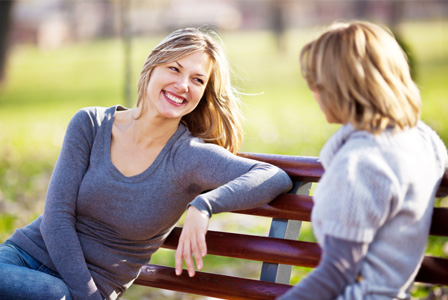 While pursuing a flexible career as a work-at-home mom can be a rewarding way to balance work and family, it also means walking away from steady income, consistent employment and the professional safety net of connections.
The business benefits
of being a mom
But, when you know how to leverage the "mom skills" you've honed, you can capture new opportunities to grow professionally. In this issue of Working Mom 3.0, writer Stephanie Taylor Christensen explores how.
Though cultural influencers aptly title being a mom as the hardest and most important job there is (thanks, Oprah!), the burden remains on working moms to leverage mommy-hood as a help to the career they want now, rather than a hindrance to professional success. Here are some ways to leverage your role as a work-at-home mom.
Consider a recent CareerBuilder study:
One stay-at-home mom returning to the workforce found success listing her skills as "nursing, housekeeping, chef, teacher, bio-hazard cleanup, fight referee, taxi driver, secretary, tailor, personal shopping assistant and therapist." Whether due to her confidence or creativity, it worked. She was hired.
Promote with pride
How many times have you responded with "not much" when someone asks you what you do all day at home with your kids? Though it couldn't be further from the truth, I've said it. But what I'm describing with that response is a day that didn't amount to many finished writing projects or yoga classes taught, despite the fact that I spent at least 15 waking hours engaging my son, tackling household chores, hitting the gym, trekking to the playground and playdates, making meals and running errands. When we work and stay at home with kids, moms tend to diminish the immense value of the daily activities that come with the "mom" territory — but beat ourselves up for not "being enough" professionally. Just because a day in the life of a work-at-home mom isn't glamorous doesn't mean that it doesn't require, and finesse, valuable workplace skills that you can and should leverage professionally.
Use your network
Just because conversations at playdates focus more on kids than career doesn't mean that fellow moms don't have professional skills, connections and interests that they'd love to share. When you start finding out who moms were before they earned the title of "mom," you'll not only uncover new networks, you may find ways to connect with mom friends on a completely new level that fuels both of your intellectual and professional passions.
Change your metrics
A mom friend and I recently discussed the challenges of foregoing full-time employment to stay at home with our kids and build new, flexible careers. While losing a hefty salary was the toughest pill for us both to swallow, we also concurred that the reward of a nontraditional career that allows us to "have it all" far outweighs money. A former sales director turned yoga studio owner, she appreciates when students express the positive impact her studio and teaching has had on their lives. I'm grateful when I receive a note of appreciation from a reader who was touched by my work, or a yoga student who says they found a new passion thanks to my class. While we probably both committed some degree of professional suicide in our "old" careers by walking away from it all, the reality is, it ended a life we don't want back. Building a new career and re-entering the work force is tough. Stop comparing yourself to who you once were professionally and realize that the metric for success changed the day you had children. You are in charge of what it means to achieve, not a salary, title or prospective employer.
Working Mom 3.0
The modern woman is redefining what it means to have a successful career. Rather than feeling torn between climbing the corporate ladder and having a happy family life, many women are choosing to merge the two and transition careers from a traditional role to a more flexible one. Working Mom 3.0 is reinventing the definition of "working mom," as office hours are held at home and revolve around nap times.
More tips for working moms
Working Mom 3.0: Shifting career gears after baby
Working Mom 3.0: Make your money work
Working Mom 3.0: Live in the now
---
The opinions expressed in this article are of the author and the author alone. They do not reflect the opinions of SheKnows, LLC or any of its affiliates and they have not been reviewed by an expert in a related field or any member of the SheKnows editorial staff for accuracy, balance or objectivity. Content and other information presented on the Site are not a substitute for professional advice, counseling, diagnosis, or treatment. Never delay or disregard seeking professional medical or mental health advice from your physician or other qualified health provider because of something you have read on SheKnows. SheKnows does not endorse any specific product, service or treatment.