Go beyond the basics with our tips for living like a local and feeling like a Parisian while in Paris.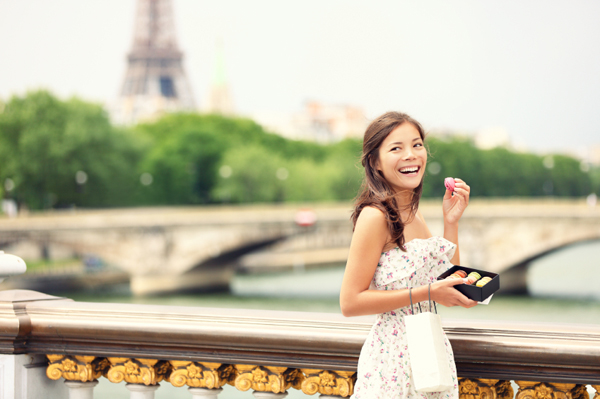 Rent an apartment
Quick tip: When deciding on a spot, think about location. It's a great idea to be close to a Metro stop so you have easy access to the city.
There's no better way to immerse yourself in a new city than to feel like you actually live there. One of the best ways to do that is to trade a hotel room for an apartment. Instead of ordering room service and sipping cocktails at the hotel bar you'll be shopping, dining and exploring in your very own Parisian neighborhood. This is a great way to get a feel for culture and have an experience that goes well beyond being a tourist. Our cozy spot in the 19th arrondissement was a fourth floor walk-up with a small terrace overlooking the action below. We had our pick of boulangeries (bakeries), fruit and flower markets, cheese shops and a nearby park. What more could you ask for?
Some options for apartment rentals include:
Get lost
While we love our guide books and walking tours, sometimes it pays to simply choose a neighborhood and just wander. There's something exciting about stumbling on a cafe or bar you fall in love with that wasn't in your guide book and you didn't hear about from all your friends who've already been to Paris. There's nothing wrong with having a list of must-see spots (on the contrary, it's good to know where you want to go), but do take a day or at least a few hours to simply see where you end up. Choose a Metro stop, put your map in your purse and go exploring.
Eat like you live there
Bonus: If you've rented an apartment you can cook or at least pick up baguettes, cheeses and other simple but distinctly local goods to enjoy at your leisure.
One of the things we always hear about travel is to eat where the locals eat. While this age-old tip works all over the world, it's a particularly beneficial strategy in Paris. Cafes and restaurants in areas thick with tourists tend to be more expensive and less authentic. Yes, you could argue that the whole of Paris is overrun with tourists, but people still live there and they likely avoid the overpriced traps set up for unsuspecting travelers. Often, all you need to do is veer a street or two away from a busy section to find smaller, less busy locales. Failing that, try places where you see a lot of locals eating. Ask around. If you speak French all the better, but many people speak enough English to point you in the direction of their favorite spots.
Don't rush
Nowhere in Europe will you see people rushing like they do in North America and the same is true of Paris. Slow down and enjoy your surroundings rather than trying to cram too much into too little time. We know it's tempting to want to cross as many items off your sightseeing list as possible, but living like a local means enjoying the moment, not missing it in a mad rush to get up and down the Eiffel Tower in time to hit the Louvre before it closes. Stop, relax and slow down to get more out of your trip.
Embrace the great outdoors
Parks in Paris are a great way to feel like you belong. Locals live for a lively picnic, and there are ample spots all across the city to spread out on a blanket with a book, enjoy a meal alfresco (all you need is a baguette, some cheese and a bottle of wine) or just wander aimlessly to enjoy the fresh air. We fell for the lovely Parc Buttes-Chaumont in the 19th arrondissement, favored by locals but not overrun with tourists. If you feel like getting away from the crowds and mingling with Parisians, this is the spot to do it. Enjoy bridges, lakes, steep bluffs and even a 30-foot waterfall, which we discovered by chance on a stroll through the grounds.
Other options include Jardin de Plantes in the Latin Quarter, Jardin des Tuileries and Luxemburg Gardens.
Up next
Pack your bags and join us next time when Frequent Flier heads to sunny Nassau, Bahamas.
More travel tips and trends
5 Places to see before you die
10 Splash-worthy pools around the world
Frequent Flier: Get to know Antigua, Guatemala