Your whole house is a-buzz about the Olympic Games. You are debating about whether you should invite the whole neighborhood over for a party or just crowd around the couch with your kids. Either way, these fantastic ideas for everything from party displays to candy dispensers will get you in the Olympic spirit.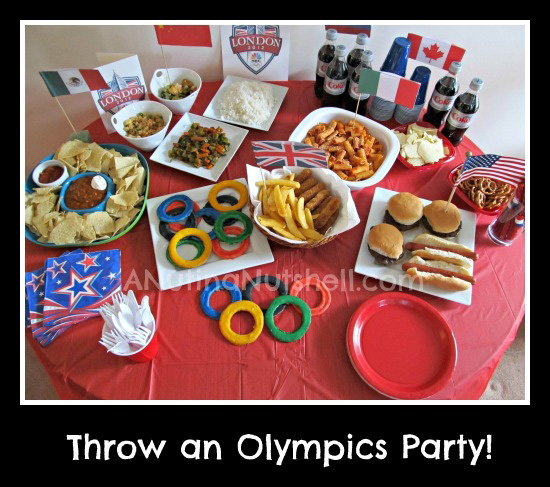 Thinking about hosting a party to celebrate the Summer Games or to watch your favorite sport with your closest friends? A Nut in a Nutshell shares fabulous, easy-to-create meals and crafts that will make you feel like you deserve a gold medal in party planning.
Original pin here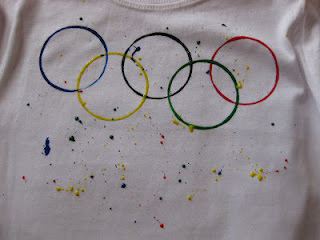 Your kids are old enough to be fully engrossed in the Olympics. They have their favorite sports, their favorite athletes and are anticipating all the excitement. What better way to help them join in the festivities than with this crafty T-shirt from Missie Lizzie? Easy to make and adorable to wear, your little Olympians will love it!
Original pin here
3
Olympic rings candy jars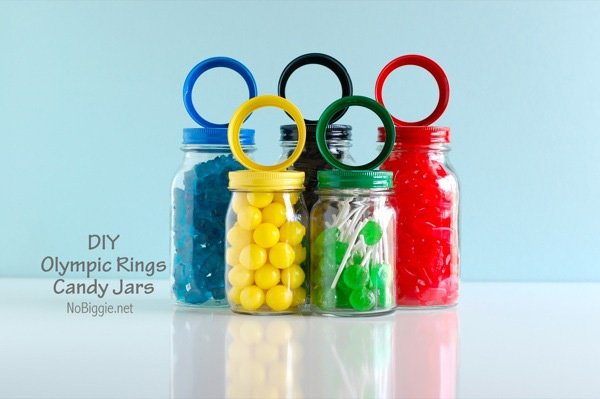 Need a special treat to pass out when you are all gathered around the television? These candy jars are perfectly crafted just for the Olympics by NoBiggie and will make you the star of the show when you hand them around to your guests. Fill these creative containers with candy, special notes or even glitter and enjoy the fun.
Original pin here
4
Olympic crafts for kids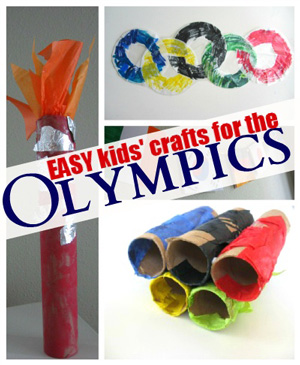 Are you running out of craft ideas to keep your kids busy this summer? Try following an Olympic theme and spending some time creating these fabulous Olympic crafts all by No Time for Flash Cards. You can incorporate learning, creativity and fill up many a long summer day with these great ideas.
Original pin here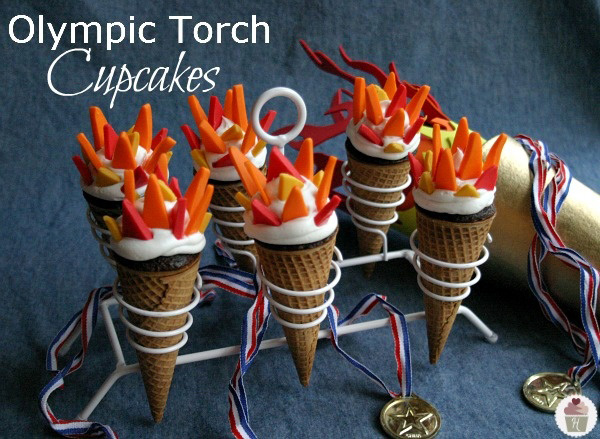 Now that you have the crafts, the containers and the display for your Olympic-themed celebration, you just need one more thing… a fabulous dessert as your centerpiece. These Olympic torch cupcakes from Hoosier Homemade are definitely a showstopper. Your guests will "ooh" and "aah" over your creative confections, and it will be hard to convince them that you haven't been slaving in the kitchen for days.
Original pin here
Whether you decide to go all out and invite the neighborhood over or just toast the opening games with some creative cupcakes, your attention to detail and Olympic spirit will not be forgotten!
More on the crafts and parties
DIY personalized party display
Glow in the dark crafts
Best craft blogs for moms