(page 2 of 2)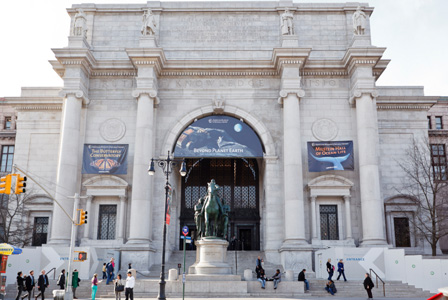 A big city like New York may not seem kid friendly, but there are tons of things for the whole family to enjoy. Get the skinny on the best family-friendly activities in NYC.
Fun for the
whole family
6
American Museum of Natural History
There's no place like the Museum of Natural History to spend a day, whether you're a kid or an adult. Walk among dinosaur skeletons, stare up at the giant whale in the Hall of Ocean Life or check out some of their fascinating rotating exhibits. Don't miss the Hayden Planetarium or the IMAX theater.
Forget Shark Week — head straight to the New York Aquarium near Coney Island Beach in Brooklyn for an up close look at otters, penguins, sharks, octopi, sea turtles and more! You can combine it with an amusement park ride at the boardwalk or a day at the beach.
8
New York Hall of Science
Located a short subway ride away in Flushing, Queens, the New York Hall of Science makes learning fun for kids of all ages. With more than 450 hands-on permanent exhibits, this is one museum where kids are encouraged to touch everything. Mini golf, a science playground and microscopes are just some of the things kids can play with to engage in the wonderful world of science.
9
Sony Wonder Technology Lab
The Sony Wonder Lab in midtown Manhattan is a tech-lover's dream — and it's free! A number of interactive stations through the technology lab focus on various facets of technology, its history and how it works from nanotechnology to virtual surgery, and from playing with robots to animation. Reservations are recommended so plan ahead.
Sporty kids may never want to leave Chelsea Piers Sports & Entertainment Complex, a 28-acre mega sports center right on the Hudson River. They have top-of-the-line facilities for baseball, basketball, bowling, boxing, dance, fitness, gymnastics, golf, ice hockey, rock climbing, sailing, ice skating, running, soccer, swimming, volleyball and yoga.
More things to do in NYC
10 free things to do in New York this summer
New York City for less than $10
The best of NYC