Fun aquatic playgrounds
Plain pool? Lame. Simple slides? Boring! Who wants to spend their summer dog-paddling in a run-of-the-mill swimming pool? These cool hotel pools are destinations in their own right!
Delano Hotel, Miami
Delano Hotel's newly renovated pool includes the introduction of Delano Beach Club, which you'll find by following a whimsical Alice in Wonderland-inspired path. The seaside Florida retreat is dotted with plush daybeds and chaise lounges fit for a celeb, where you can enjoy the casual and lighthearted fair that Chef Brian Massie cooks up. At night, the Delano Beach Club takes on a noticeably sexier vibe with bass-thumping music and stunning views of the Atlantic Ocean. Delano Hotel's pool is surrounded by the Orchard, a lushly landscaped lawn filled with eye-catching vignettes like an antique daybed and oversized chessboard. It's a surreal experience perfect for soaking in Miami's hot sun.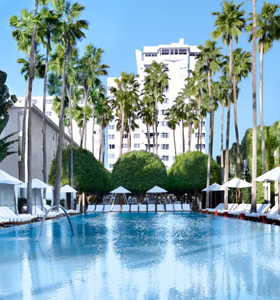 The Westin Kierland Resort & Spa, Scottsdale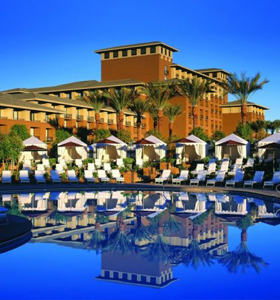 Kids will love The Westin Kierland Resort & Spa's Adventure Water Park because it's an activity-packed oasis complete with a 900-foot lazy river and 110-foot waterslide. Parents will love it because it'll keep the kids busy. In August, the Arizona resort is opening the Kierland FlowRider, a board sport simulator with wave technology that tests your surfing skills sans wipeout. As if these activities weren't enough, Kierland's water area also includes a play section for smaller swimmers with pop-jet water fountains and shallow pool. Daily waterside activities, like hula-hoop and limbo, are arranged by the FUN Team and adults get a kick out of the margarita putting challenge.
Four Seasons Hualalai at Historic Kaupulehu, Hawaii
The adults-only Palm Grove Pool at the Four Seasons Hualalai at Historic Kaupulehu is just steps from the ocean and surrounded by leafy palm trees. A place of true privacy and relaxation, it features a 40-foot, tension-edged pool that seems to drift into the ocean's bright blue waters. There's a Jacuzzi, too, and ample seating with semi-private areas off to the side. A dip into the Four Seasons Hualalai's pool is an indulgence for the senses. Mini Zen gardens are set on all lounge chair side tables and fragrant notes of gardenia and plumeria offer natural aromatherapy. Poolside pampering takes place every hour and is inspired by the elements with treats like coconut water and thermal mud lotion.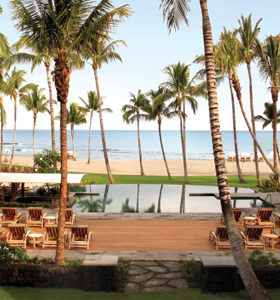 JW Marriott San Antonio Hill Country Resort & Spa, San Antonio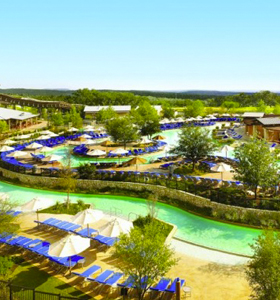 Six acres of heated pools, fountains, waterfalls and rivers make up the River Bluff Water Experience at JW Marriott San Antonio Hill Country Resort & Spa. No doubt the highlight of the unique pool complex is the Pedernales River, a water ride experience that uses lower gradients and higher volumes of water to create the feel of a natural river. The swift current packs a powerful ride that carries you from one curve to the next. The fast-moving pace is probably a good thing, considering guests on the pool deck are armed with water blasters! For a more laid-back experience, a separate 1,200-foot lazy river carries you around the grand cabana and pool deck.
La Costa Resort and Spa, Carlsbad
As the final piece in La Costa Resort and Spa's $50 million renovation, EDGE Adult Pool + Cocktails is an adults-only water playground with a grand oval-shaped pool, infinity-edge Jacuzzis and cozy fire pits. The dedicated cafe at this California resort serves some delicious signature cocktails while spacious private cabanas offer panoramic views of the hotel's golf course. EDGE's atmosphere is both modern and relaxing with sleek lines, mosaic tiles and a color scheme of soft green and aqua. Traveling with the tots? Not to worry. La Costa's Splash Landing and sandy beach recreation areas are family friendly and a ton of fun.
Plan your next escape
London's coolest hotels
Checking In: Must-see haunted hotels
5 Unique hotel tours