See San Francisco's Most Iconic Spots
There is plenty to see and do in San Francisco, including some tourist hot spots that shouldn't be missed. Everyone should visit Alcatraz and walk over the Golden Gate Bridge at least once. Check out these places to stop on this tour of the City by the Bay.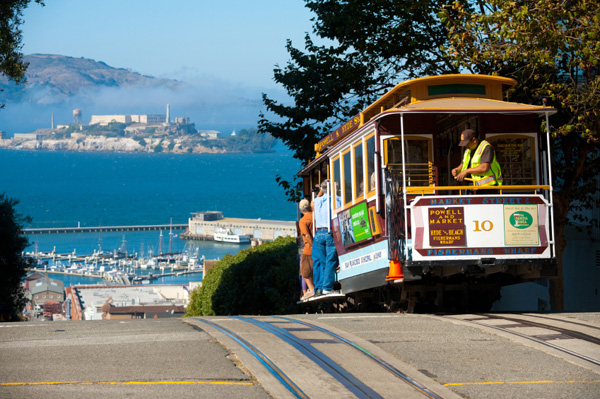 You'll need more than a weekend to hit all of these iconic San Francisco tourist spots, but they're all must-see destinations. Pick a few to see what this iconic California city is all about. And don't forget to ride the historic cable cars while you're there!
Pier 39
You'll find just about anything you're looking for at this seaside tourist attraction. Pier 39 is home to innumerable shops and restaurants, plus a video arcade and the Aquarium of the Bay. To get the full experience of the pier, take a spin on the two-story carousel, grab a bowl of clam chowder, take in views of Alcatraz and the Golden Gate Bridge and watch the sea lions lounging on the docks below.
Alcatraz Island
Once home to a federal prison, Alcatraz Island (The Rock) is now a National Historic Landmark and part of the Golden Gate National Recreation Area. Tours of the island and facilities are offered to visitors who arrive by ferry from Pier 39 where you'll learn all about the infamous inmates, their escape attempts and more.
Golden Gate Bridge
Since 1937, the bright orange Golden Gate Bridge has been one of the most photographed sights in San Francisco. Take a walk across the 4,200 foot suspension span that sits 692 feet above the water (just don't look down if you're scared of heights!). On a clear day, you'll have views of Alcatraz Island, Angel Island, the Marin Headlands and the gorgeous downtown San Francisco skyline.
Lombard Street
Buckle your seatbelts and get ready for a crazy ride. Lombard Street, which has a portion consisting of eight sharp switchbacks, is designated as the crookedest street in the world. Besides being a windy road, it is also incredibly steep. Drive carefully!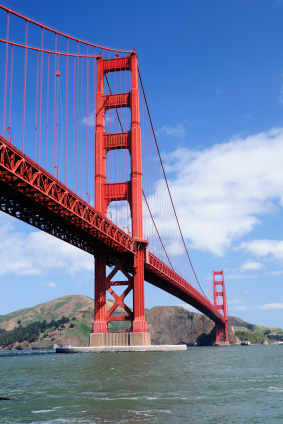 Palace of Fine Arts
The Palace of Fine Arts was built for the 1915 Panama-Pacific International Exposition and is one of the few structures remaining from the exposition. The palace and surrounding area is frequently used for weddings, but its theater is also home to concerts and other events. Be sure to visit the Exploratorium, a museum of science, art and human perception, located at the palace.
AT&T Park
If you're visiting during baseball season, take in a San Francisco Giants game at AT&T Park. This ballpark, which replaced Candlestick Park in 2000, sits on China Basin, dubbed McCovey Cove after the famous Giants player Willie McCovey. The park is famous for its huge Coke bottle and glove in the outfield and also features statues of many of baseball's icons.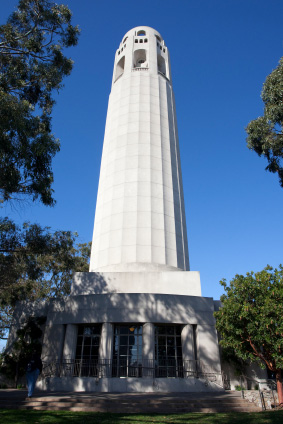 Coit Tower
This 210-foot-tall tower sits atop Telegraph Hill and provides 360-degree views of the Bay and the city. Although it is an easy walk from the Fisherman's Wharf area, once there you will face hundreds of stairs getting to the base of Coit Tower, not to mention the stairs to get to the top. Wear your walking shoes for this one.
Golden Gate Park
You won't be bored spending a day at Golden Gate Park, which consists of more than 1,000 acres and is home to many attractions. At the California Academy of Sciences, visit Steinhart Aquarium, Morrison Planetarium and one of the world's largest museums of natural history. Take in fine art at the De Young Museum, which features an extensive collection as well as rotating exhibits. And after a long day of sight-seeing, relax at the calming Japanese Tea Gardens.
More things to do in California
Lesser-known California wine regions
Best family camping spots in California
7 Best theme parks in California