London's
coolest hotels
With the days ticking away to the 2012 Summer Games, London is on the minds of travelers around the world. If you're planning a trip across the pond, here are five top London hotels to consider.
Bulgari Hotel
The Bulgari Hotel in London's swanky Knightsbridge neighborhood is just steps from Harrods and Hyde Park. Decked in the label's signature look, the elegant Bulgari is London's first new luxury hotel in 40 years. Its sleek architecture and refined furnishings mirror the jewelry company's silversmith beginnings. Inspired details include custom-made silk curtains with patterns derived from a 1800s silver brooch by Sotirio Bulgari and 17th and 18th century Roman silver pieces from Bulgari's private collection. Members of London's elite crowd flock to Il Bar and Il Ristorante, which is headed by noted Chef Robbie Pepin.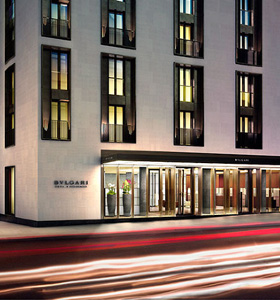 St. Martins Lane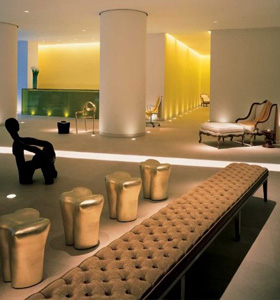 St. Martins Lane is all about the drama. A fantastic collision of influences, the London hotel's design runs the gamut from modern to baroque. Your journey to the theatrical side begins as soon as you step through the revolving doors, which reveal a visually stunning world of oversized columns, angled niches and Portuguese limestone floors. Even the fitness center — dubbed Gymbox — is above and beyond. Olympic-sized boxing rings, nightly resident DJs and hip-hop belly dancers are just part of the experience. At Asia de Cuba, global travelers get their gastronomical kicks from dishes like crab croquettas and sweet soy salmon.
W London-Leicester Square
In the heart of the West End is the W London- Leicester Square. With electric nightlife and iconic cinemas at its doorstep, the hotel is at the center of London's design and music scene. (Fashionistas love the W London, too, because it's near Piccadilly and Regent Street!) You can live like a queen in any of the hotel's 192 rooms, but the sky-high E WOW Suite is a total showstopper. Outfitted with a circular sofa centerpiece, mirror ball sculpture and four-person shower, this Studio 54-esque room inspires the wildest dreams. The sparkling Wyld nightclub is perfect for a late-night rendezvous and the flavors at Jean-George Vongerichten's Spice Market are another can't-miss.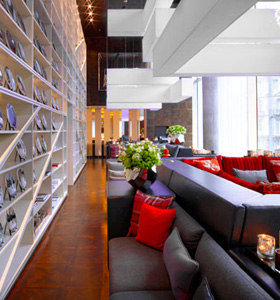 The Ampersand Hotel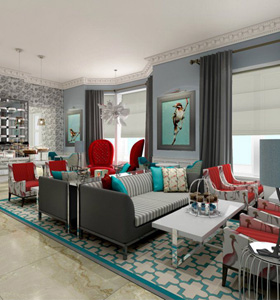 Opening in London's South Kensington district this August, The Ampersand Hotel takes its inspiration from the world-famous museum district and the ampersand symbol. Walk its halls and you'll spot references to the pattern and texture of the Victoria and Albert Museum's costume collection, the Science Museum's planets and phials and the Natural History Museum's zoological bird drawings. In the guest rooms, aesthetic focuses on five central concepts: botany, music, geometry, ornithology and astronomy — all part of South Kensington's DNA. At the softly lit Apero restaurant, a glass of Champagne is the perfect sidekick to the fresh Mediterranean menu.
Dukes Hotel
Housed in a classic London red brick building with a Union Jack waving above the front door, the Dukes Hotel is a small, 90-room property with a British finesse. Wingback chairs, decorative mirrors and elaborate wardrobes reign supreme at this boutique hotel, whose bar is credited for the famous James Bond catchphrase, "shaken, not stirred." In the Duke of Clarence penthouse suite, a fine porcelain and china collection changes every two months and a private terrace overlooks nearby Clarence House and Green Park. For a taste of refined British cuisine, make a date at THIRTY SIX restaurant.
Can't get enough of hotels and travel?
Checking In: 5 Must-see haunted hotels
Unique hotel tours
Top hotels for foodies