Cheap, Romantic Honeymoons
A wedding is, no doubt, one of the biggest (and best) moments of a couple's life. You plan every detail meticulously, spend months exercising and eating right and hours the night before ensuring all the centerpieces are perfect. After such a stressful (albeit beautiful) day, you two deserve one heck of a honeymoon. However, in today's economy, many couples are having to push back honeymoons due to finances. Don't skip that much-deserved romantic week off. Instead, check out these five amazing (and very affordable) honeymoon destinations.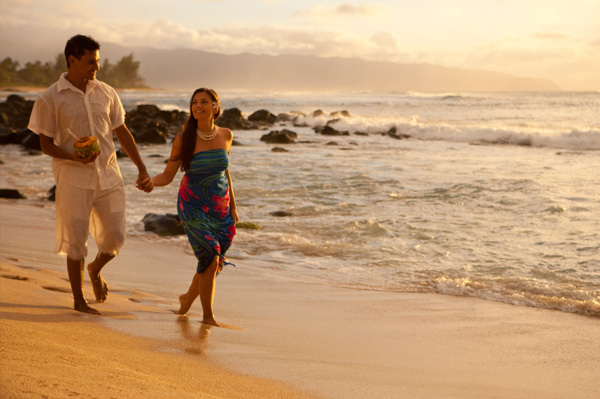 Don't let your financial woes stand in the way of you and a beautiful beach like the one above. These top honeymoon destinations are perfect for the couple on a budget, since they offer many cheaper hotels (that are still luxurious), great dining options and attractions that won't deplete your savings. You and your hubby deserve time off, so enjoy your honeymoon without money stress by checking out one of these locations! Plus, a few of these don't even require a passport!
Oahu, Hawaii
Hawaii, despite being in the U.S., is one of the most expensive places to travel. However, unlike Maui or Kauai, Oahu offer the same gorgeous views for far less money. If you two are adventure seekers, Oahu is your place. This tropical paradise offers amazing attractions that cost nothing or next to nothing to see, like Waikiki Beach, Diamond Head crater and the Banzai Pipeline surf break. If you're more into the city lifestyle with a tropical edge, you'll want to hit up Honolulu, the Hawaiian capital, located on the southern tip of Oahu. Honolulu has a hefty hotel stock, which means the odds of you finding one for a reasonable price are much higher. If you're a foodie, you'll love Honolulu's affordable farmers' market on Saturday and the cozy restaurants in the Kapahulu neighborhood. If you're staying in Honolulu, you can snag a room at the swanky four-star Hawaii Prince hotel for less than $150 a night! If that's a little high, check out the three-star Wakiki Gateway hotel, which goes for less than $100!
Up next: Charleston, South Carolina >>