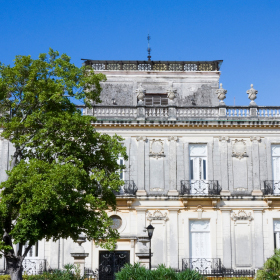 Merida
Merida is well worth a visit for its colonial architecture, European flavor, wide boulevards and fabulous people watching from any number of street-side bars and restaurants. We spent five days soaking up the laid-back atmosphere, but could have stayed several more. Relax in the lush central square, wander through the comprehensive exhibits at the contemporary art museum (admission free) and take a tour to see (and swim or snorkel in) a cenote (underground cave pools with an other-worldly feel). Tours usually include hotel pick-up/drop-off, a visit to two or three cenotes and snorkel equipment.
Rest your head: Get some shut-eye at the charming Hotel Luz en Yucatan (rooms from $50).The pretty courtyard and poolside patio are perfect for cooling off after a long day of wandering.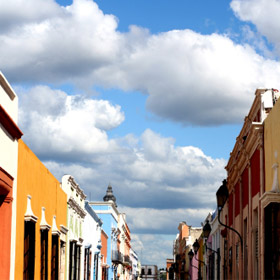 Campeche
Campeche is a quaint but bustling city with a historic center surrounded by a partial stone wall built in the 1600s to deter pirates that's now a UNESCO World Heritage site. Between walking along the wall (which provides stunning views of the city), down narrow cobblestone streets and by multihued pastel buildings, this is a city made for meandering. Stop for a cocktail overlooking the main square at La Casa Vieja (Calle 10, 319A, 981-811-1311); their colonnaded balcony is the perfect place for people watching.
Rest your head: Stay at the small but well-appointed and centrally located Hotel Francis Drake (doubles from $57).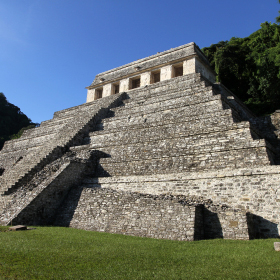 Palenque
While Palenque town isn't much to get excited about, make the trip to spend a day (or ideally two) getting to know the majestic, awe-inspiring Mayan ruins a few kilometers from town. Well-preserved ancient structures are surrounded by lush, emerald-hued jungle, making for a decidedly wow-worthy experience.
Rest your head: We suggest staying at Margarita & Ed's Cabanas, charming, clean and cool cabins right in the jungle about 15 minutes from the bus station (ask a taxi driver to take you). The grounds (shared with El Panchan) are sprawling and offer lots of space to relax, good food and friendly staff. The wood oven pizza is surprisingly tasty for a spot surrounded by jungle.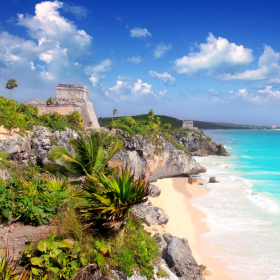 Tulum
Tulum is worth a couple of days for the small but well-preserved Mayan ruin of the same name and a stunning stretch of beach (think sugary-soft sand and turquoise water). We also suggest making a trip to nearby Sian Ka'an Biosphere, a UNESCO World Heritage site and the largest protected area in the Mexican Caribbean. Shopping includes both kitschy souvenir stands and a few stylish boutiques. Make sure to stop at Suwus on the main street (34 Avienda Tulum) for one-of-a-kind beach wear from local designers.
Rest your head: Relax after a hot day of clamoring up and around the ruins and hitting the beach at welcoming Las Palmas Maya (rooms from around $100). Close to the ruins and the beach, this is a convenient and tranquil place to stay.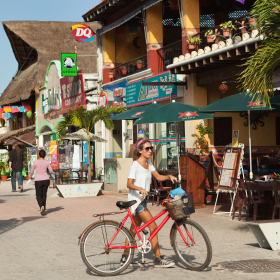 Playa Del Carmen
Playa Del Carmen is an international party playground. Come here to drink in one of the many trendy bars, frolic on the miles-long beach and wander the famed 5th Avenue (Quinta Avenida), a pedestrian street filled with shops, bars and restaurants running parallel to the beach. Walk, shop, stop for a margarita, repeat.
Rest your head: Fall into a blissful sleep at the chic and stylish, yet cozy Petit Lafitte (around $160 per night).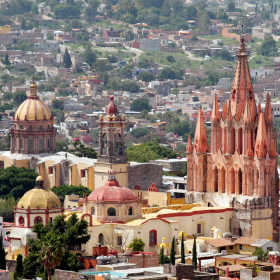 San Miguel De Allende
It's hard not to fall in love with this lively colonial city in central Mexico with its cobblestone streets, baroque architecture and charming cafes and boutiques. Stretch your legs on one of the hiking and walking trails though the 250-acre Charco del Ingenio Botanical Gardens, relax in La Gruta, thermal hot springs just 10 minutes outside of town, or simply do what we did — wander the winding streets, hopping form shop to shop, café to café and enjoying the eye-opening surroundings (San Miguel was designated a UNESCO World Heritage site in 2008).
Rest your head: Drop your bags at gorgeous boutique hotel Casa Schuck (rooms from $195). The romantic setting, perfectly appointed rooms and inviting pool make it a must-stay.
Up next
Pack your bags and join us next time when Frequent Flier goes to London, just in time for the Olympics.
More travel inspiration
Frequent Flier: Top 10 reasons to visit Belize
What to see and do in Vientiane, Laos
Best beaches in Thailand