Don'T Miss The Big Show!
New York City puts on one of the greatest fireworks shows in the country every Fourth of July, making it a fun time to visit. Find out where to get the best view for the ultimate viewing experience.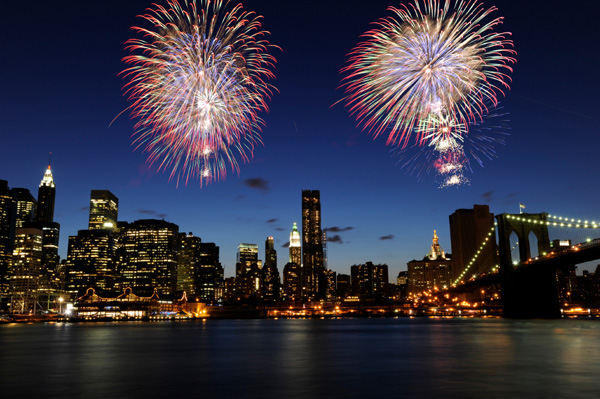 It's easy to forget that modern New York City, with its skyscrapers and technology, started out as one of the thirteen colonies that fought for their freedom from the British in the Revolutionary war centuries ago. But today there's no better place to celebrate Independence Day than with the sensational fireworks show that has taken place in the city for decades.
Best view in Manhattan
For the best view of the fireworks in Manhattan, anywhere on 12th Avenue below 59th Street is a good bet. Views on 11th Avenue between 24th and 57th Streets at certain access points are excellent as well. Any high buildings with a view of the Hudson River will provide a great spot as well. Get a map of the access points as well as transportation info here.
Best view in New Jersey
Some of the best views of the fireworks are actually on the other side of the river, in New Jersey. Take the ferry or the PATH train to the waterfront in Hoboken or Weehawken.
Listen
The fireworks show, whose theme in 2012 is "Ignite the Night," is synchronized to a musical score that will combine old standards with modern pop music. Tune in to 1010 Wins or 102.7 to hear the music that accompanies the fireworks. There will also be live performances by Katy Perry and Kenny Chesney.
Sync
To be totally in sync with this year's NYC Fourth of July fireworks show, download the special app on your smartphone (get it here). It boasts transit and viewing information, the live synchronized musical score, city guides, and more.
More Fourth of July inspiration
Less touristy vacation spots for the Fourth
8 cheap 4th of July destinations
Best cities for 4th of July fireworks and celebrations

More From SheKnows Explorer