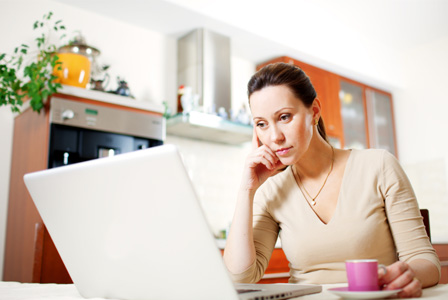 Being a work-at-home mom involves devoting your heart, soul, energy and passion into a path marked by uncertainty. Small successes fuel the fire, but what if it feels like you've had more losses than wins?
Seize your sour times
In this issue of Working Mom 3.0, writer and work-at-home mom Stephanie Taylor Christensen explores how to transform down times into valuable lessons.
I frequently tap into a mantra implanted in my head by a high school physical education teacher: "It's better to shoot for the stars and miss, than aim for the gutter and hit." While likely intended for use in athletic pursuits over career advice, it's kept my belief in my professional decision alive in times of doubt and reassures that a potential failure will hurt far less than not tryng at all and wondering what might have been had I just taken a risk. My journey as a work-at-home mom has most certainly had peaks and pitfalls, and as long as I pursue my dreams, I'll have good and bad work-at-home mom moments. While I certainly hope my future holds more Champagne-popping moments than not,  I've learned there is quite a bit of wealth to be found in failure—if you know how to seize the value. Here are three ways you can actually benefit from missing your goals once in awhile.
You'll become strategic
Being a work-at-home mom is alot like shooting in the dark. You may have an idea of the career path or goal that will deliver the future you envision, but there's a fair amount of guesswork along the way. Oftentimes, opportunities you didn't even consider fall into your lap, while seemingly brilliant strategies fail to come to fruition. But there's a danger in always coming out on top: We rarely scrutinize what led to success and fail to truly understand how to replicate it. Failures, on the other hand, occupy our mindspace for weeks, or more, as we painfully replay each detail that led to demise. When you learn to harness how your mind processes failing, however, you can access a "rearview mirror" form of insight that can reveal a road map for the future. When you truly consider what worked, what didn't and why, you'll become less reactive, uncertain, fearful and dependent on "happenstance" in your professional pursuits. In turn, your actions can become more strategic, informed and confident. In short, you'll direct your career less like a new college grad and more like a seasoned CEO who has seen the best, and worst, of career potentials.
You'll get feedback
Whether you loved or loathed the review process in a salaried gig, there is undeniable value in understanding the impact and perception of your approach and actions on your career. When you work from home, you don't always attribute the impact of your own strengths and weaknesses to outcomes, and you rarely find a client or prospect who will be straightforward in telling you what you did well and where you flopped. Reflecting on your own failures provides an opportunity to conduct your own "annual review" of sorts, just as a boss might do. As long as you can be truly objective in your analysis, you'll see areas for improvement. You may even uncover areas of skill you didn't previously recognize had value.
You'll ditch your evil ego
"All troubles come to an end when the ego dies."
The 19th century mystic Ramakrishna advised that "all troubles come to an end when the ego dies." While pride and ego may drive you to succeed as a work-at-home mom, failure can be a remedy that clears the foggy delusion of ego that works to your own detriment. When you see the world through a new view, you may also see new opportunities, truths and ways to partner with others to make your dreams a reality.
Working Mom 3.0
The modern woman is redefining what it means to have a successful career. Rather than feeling torn between climbing the corporate ladder and having a happy family life, many women are choosing to merge the two and transition careers from a traditional role to a more flexible one. Working Mom 3.0 is reinventing the definition of "working mom," as office hours are held at home and revolve around nap times.
This column begins by chronicling the experiences of Stephanie Taylor Christensen, a former marketing professional turned self-employed stay-at-home mom, writer and yoga instructor, as she strives to redefine "having it all" on her own time and terms.
More tips for working moms
Working Mom 3.0: Make your money work
Working Mom 3.0: Managing the summer home office
Working Mom 3.0: Find the right job
---
The opinions expressed in this article are of the author and the author alone. They do not reflect the opinions of SheKnows, LLC or any of its affiliates and they have not been reviewed by an expert in a related field or any member of the SheKnows editorial staff for accuracy, balance or objectivity. Content and other information presented on the Site are not a substitute for professional advice, counseling, diagnosis, or treatment. Never delay or disregard seeking professional medical or mental health advice from your physician or other qualified health provider because of something you have read on SheKnows. SheKnows does not endorse any specific product, service or treatment.