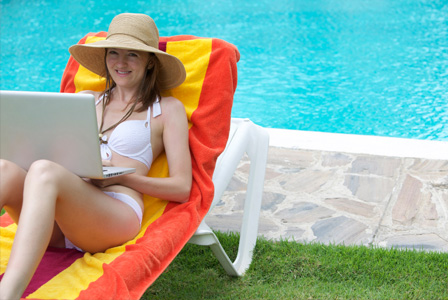 Forget New Year's resolutions! In this issue of Working Mom 3.0, writer and work-at-home mom Stephanie Taylor Christensen explores why summer is a prime opportunity for work-at-home moms to boost productivity with healthy new habits.
Maximize summer as a work-at-home mom
Here are three simple changes that may just leave you with a renewed sense of purpose, energy and creativity.
Think alfresco
When I worked in an office, summer lunch hour strolls or even the opportunity to sneak outdoors to grab a quick bite to eat was a treat to be savored. When you work from a home office, the summer days are all yours, provided you take advantage of them in ways that complement your work-at-home routine. Start a "frequent alfresco" tradition with your kids this summer and dine outdoors for every breakfast. Not only will it give you a renewed appreciation for your work-at-home routine each summer morning, you may find that you can actually do a little more multitasking when your kids can run around in the backyard, and you enjoy your morning coffee and catch up on email.
Savor summer nights
If your house is anything like mine, summer actually cuts into your morning home office routine. Though the brighter rays make it easier to roll out of bed, it has the same effect on my child and pets, which means less time to squeeze in work in the wee hours of morning. Instead of feeling stressed with the pattern change, reset your summer nighttime routines. If your family typically follows a set schedule of dinner, bath and books, adjust and enjoy. Keep dinners simpler, and take a family walk or bike ride after dinner. It's a great way to bond with your family, while burning off their energy — and your stress. If you have a habit of catching up on your favorite TV shows after the kids hit the hay, use rerun season to relax into new, healthier nighttime habits. As the sun sets, wind down with it, and shut down all electronics. According to Robert Piper, meditation instructor and founder of Monk in the City, traditional Chinese medicine dictates that 10:30 p.m. is the ideal time to go to bed in order to get a full cycle of sleep.
Move more
There really is no excuse not to get moving in the summer months, and it doesn't have to mean sweating it out at the gym or compromising your work or family time in order to squeeze in physical activity. In fact, a regular exercise routine has real mental advantages — and what "mommy brain" can't use a bit of that! According to New York Times columnist and author Gretchen Reynolds, regular (even moderate) exercise done at least four times a week for 30 or 40 minutes boosts brain cells, and ultimately "means that you will have a larger hippocampus, which is related to memory and learning." Take a walk while you have summer conference calls, swim a few vigorous laps while the kids play at the pool with friends, join the kids in outdoor games and start a gentle bedtime yoga practice. It all adds up to more brain power — for the whole family!
Working Mom 3.0
The modern woman is redefining what it means to have a successful career. Rather than feeling torn between climbing the corporate ladder and having a happy family life, many women are choosing to merge the two and transition careers from a traditional role to a more flexible one. Working Mom 3.0 is reinventing the definition of "working mom," as office hours are held at home and revolve around nap times.
This column begins by chronicling the experiences of Stephanie Taylor Christensen, a former marketing professional turned self-employed stay-at-home mom, writer and yoga instructor, as she strives to redefine "having it all" on her own time and terms.
More tips for working moms
Working Mom 3.0: One less thing
Working Mom 3.0: Work at home, spend less
Working Mom 3.0: The many faces of a working mom
---
The opinions expressed in this article are of the author and the author alone. They do not reflect the opinions of SheKnows, LLC or any of its affiliates and they have not been reviewed by an expert in a related field or any member of the SheKnows editorial staff for accuracy, balance or objectivity. Content and other information presented on the Site are not a substitute for professional advice, counseling, diagnosis, or treatment. Never delay or disregard seeking professional medical or mental health advice from your physician or other qualified health provider because of something you have read on SheKnows. SheKnows does not endorse any specific product, service or treatment.