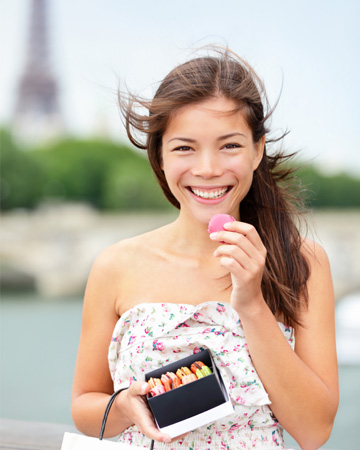 travel on the cheap!
Rachael Ray wasn't lying when she made the statement that you can travel anywhere on less than $40 a day. So, you know it can be done, but the question is, how do you do it? Especially in some of the very expensive destination spots? Check out our easy guide, which gives you the tips and tricks to eating well and seeing the sights on a very limited budget!
Don't think you can't eat at five-star restaurants, see amazing museums or even go on boat tours if you're on a seriously limited budget. Just take these pieces of cheap travel advice and explore like a king and queen (on a peasant's salary!).
Visit the "right" places
Now, we don't mean right as in, right or wrong; we mean simply in budgetary terms! If you're looking to travel outside of the country, instead of sticking to popular tourist places, look for deals in developing nations like Thailand or Vietnam. Not only will you save money getting to your destination, but you'll be able to stretch your dollar even more since the prices aren't jacked up due to high demand. For example, a night in a typical Caribbean resort can cost from $100 to $500, whereas a night in Malaysia or Thailand can cost as little as $50, and some places in Central America cost less than $10! In addition, amazing food in emerging countries can cost you as little as $3, where some Caribbean places charge five times that. If you're worried about safety, speak to a travel agent or do your research on where you should go versus where you shouldn't.
Do your research
This is the most important part of trying to travel on the cheap! Before you click "book" on any trip, whether domestic or international, it's imperative to do research on the place you plan on visiting. For the lodging component, look up at least four travel sites to get the most competitive rates. If you're still not happy, contact a travel agent or call the hotel directly to see if they can offer you a lower rate. Do the same for airfare, bus or train fare. In addition, look up coupons or use credit cards with travel rewards so you can save even more.
Another thing to look up is an activity calendar or list of events. Many cities, like Washington, D.C., New York City and San Francisco, have food, drink and music festivals that are either free or very cheap to get into. In addition to this, most cities have restaurant weeks, where many high-end restaurants offer deals and prix fixe menus that are often cheaper than regular prices. When researching, also be sure to check out LivingSocial or Groupon, as these sites offer heavily discounted restaurant, hotel, activity and bar deals including some that are more than 50 percent off!
Tap into social networks
Thank your lucky stars for people like Mark Zuckerberg, because we can now connect with friends, colleagues and family members around the world! Before you book a room or expensive guided tour of your destination, put out a status on Facebook or Twitter! Let your friends know you'll be going to city X and that you'd love some local recommendations of best cheap places to eat and where you should stay. If your friends don't know, they'll be able to share it among their network. Most of the time, you'll get connected to a friend of a friend who lives there, has been there or knows someone who does, which will give you local insight! Plus, you can find exclusive deals for many restaurants on their Facebook and Twitter pages that they only share with their followers, sometimes offering up to 50 percent off dishes or bar tabs! You can also "like" or "follow" many big cities on these social networks, which will give you a look into local festivals, new restaurants or more deals and activities.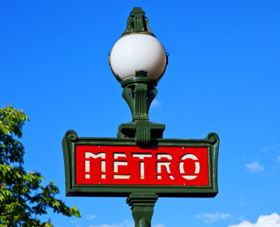 Use public transportation
Although cabs are often quicker, more reliable forms of transportation, the cost of the rides can quickly add up! Instead of shelling out up to $50 a day for a cab, do some research on your destination's public transportation systems. Many big cities, like Washington, Paris, London and Rome, have very inexpensive options to get around, like metros, trains and buses. Plus, in many of these cities, you can purchase a day pass that allows you to travel anywhere on the system for a discounted rate.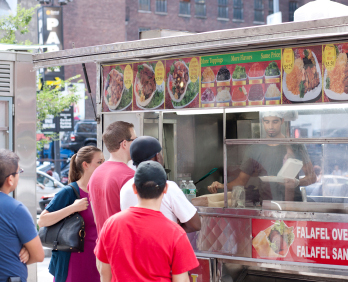 Eat with the locals
One of the biggest expenditures in traveling is eating, especially if you travel to places that are very touristy. Want to save your pennies and eat better food? Avoid the tourist traps and eat with the locals! Ask your concierge where he/she eats when they're on a budget and chances are, they'll give you a list of their favorite places that are affordable. In addition, check out Yelp, which is a website that offers reviews and recommendations for almost everywhere. This will allow you to quickly find restaurants that are affordable and off-the-beaten-path. Another great foodie tip is to check out the city's food trucks! Food trucks are still relatively new to the scene but are taking major cities by storm. They offer delicious, quick and local favorites for a pretty cheap price tag. Cities like Washington and Los Angeles have food truck directories online that tell you when and where favorites will be stopping.
BYOB (and F)
Another way to save some green on your eating and drinking when you travel is to BYOB and F (bring your own booze and food!). If you're traveling by car or train, stack a few bottles of wine, beer or your favorite liquor in your bag. In addition, you can add chips, cereal or other snack foods in there as well. This will save you on bar costs (which in some cities, can be as hefty as $15 a drink) and food or snack costs (which can cost the same in many areas!) Bring a cooler with sandwiches, pasta salads, fresh fruit or vegetables or even packed lunches or dinners so you don't have to stop for unhealthy, expensive eats.
Shop locally
Avoid the packed shopping malls or tchotchke stores on tourist strips and head to local markets, unique boutiques or locally owned businesses instead. Many of these local places have competitive prices and offer a better product. For example, the very popular destination Charleston, South Carolina, has the historic market right in downtown, which has hundreds of local venders who sell anything from baskets, to food products to clothing, for a reasonable price! If you're staying in a place with a small kitchenette, it's a smart idea to stock up on fresh foods at these markets too so you can prepare your own meals, which helps keep travel expenses in check.
You may not be able to travel everywhere on a small budget, but you can still get out and see the world, even with as little as $50 a day!
More budget travel tips
Maui on a budget
Budget-friendly travel
8 Budget-friendly family vacations