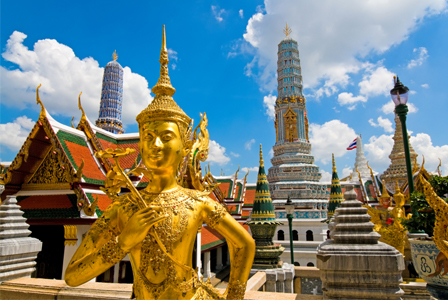 Bangkok is a city that's constantly buzzing, full of energy and never short on things to do. If you find yourself in this bustling, cosmopolitan capital, we've put together a list of some can't-miss activities.
Bangkok or bust
Whether you're traveling solo, as a couple or with your family, you're bound to find something interesting on our list of must-sees.
Hit the Chatuchak Weekend Market
No matter what you're shopping for — from housewares to vintage clothes to books — you're bound to find it at this bustling, sprawling market. Despite its size (peruse more than 8,000 stalls), the market is well organized and easy to navigate if you're paying attention. Once you see something you like, simply ask "how much?" to start the bargaining. The initial price is usually high so feel free to offer something lower. Bargaining is half the fun of market shopping! We found two great pairs of shoes, adorable dresses and many T-shirts. Oh, and don't miss out on the coconut ice cream.
Get a traditional Thai massage
You can't go to Bangkok without getting a traditional Thai massage. Trust us; after all that walking and sightseeing, your muscles will need it. Thai massage focuses on circulation and pressure points, promoting overall wellness as well as muscular flexibility and it's impossible to leave not feeling revived yet totally relaxed. Ask at your hotel or guesthouse for a recommendation.
People watch on Khao San Road
One of the most popular and infamous areas in Bangkok for travelers is Khao San Road. Tourists, locals, rich, poor, young, old — you'll find a varied cross section on this busy stretch making it a prime people-watching location. Grab a cold drink at one of the countless bars and cafes and relax as you watch Bangkok unfold around you.
Have a rooftop cocktail
One of the quintessential Bangkok experiences is enjoying a cocktail — with a view. There are several hotel bars, restaurants and lounges that are on upper floors so patrons get a panoramic view of Bangkok from above. Try Sky Bar or Vertigo and Moon Bar.
More travel tips
The backpacker's travel checklist
Top 5 green hotels in the world
Top 10 reasons to visit Jerusalem