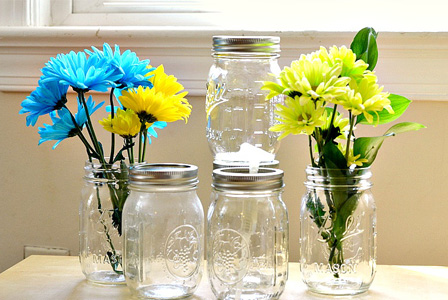 Unless you've been living under a rock, you've seen that Mason jars have taken the decorating, wedding and food world by storm. They're everywhere, from chandeliers to bakeries to wedding centerpieces.
Fun ways to decorate with jars!
The wonderful thing about these glass jars is that they are so versatile and can be used in all aspects of home decorating. This spring, add some whimsical charm to your home with these unique Mason jar decorating ideas.
However, skip the same old lantern or centerpiece idea and get really creative with your Mason jar decor, for a one-of-a-kind look to update to your home. Plus, for less than $5 a jar, these decor ideas are perfect for a crafter on a budget.
Candles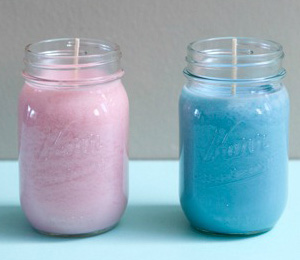 This unique take on the lantern look is perfect for home decor, wedding centerpieces or even a fancy way to kill pesky bugs outside! Creating your own Mason jar candle is easy, budget-friendly and a great way to use up those jars. Plus, since you can pick the color of your wax, you can customize each candle to fit the decor vibe of your room.
To create a Mason jar candle, here's what you'll need:
Mason jar
Colored wax flakes (can be found here)
Long candle wick
Wick holder stick
Wooden spoon
For the tutorial on how to make beautiful Mason jar candles, check out Something Turquoise.
Soap dispensers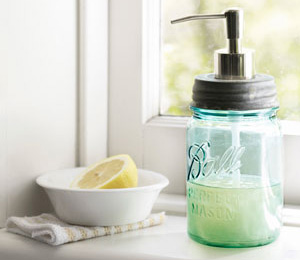 Dish and hand soap is something everyone needs, so why not at least disguise those tacky plastic bottles and dispense your soap out of something cuter? These adorable soap dispensers help declutter your kitchen sink or bathroom vanity and are very eco-friendly. Recycle those ugly plastic containers and keep your kitchen and bathroom tidy, elegant and put-together with this Mason jar soap dispenser DIY. Image courtesy of Country Living.
To create soap dispensers, here's what you'll need:
Mason jar
Soap dispenser pump
Hot glue gun
Spray paint (optional)
For a complete tutorial on how to make this adorable soap dispenser, check out Fine & Feathered!
Photo frames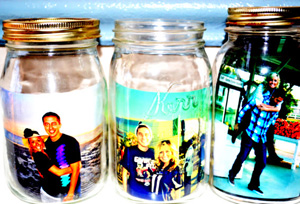 Want an inspiring and unique way to display your favorite memories captured on camera? Simply place your photos in a Mason jar for a fun, creative way to show off your most treasured pictures. Plus, you can add whatever you'd like into the jars for various effects -- for example, shells, sand, salt or even glitter. These jars make the perfect centerpieces for a special dinner, are great props for a wedding guest book table or darling gifts for your loved ones. Image courtesy of The Shine Project.
What you'll need:
To make these, simply cut your photos so they fit into the jar, place inside and display -- easy peasy!

Luminaries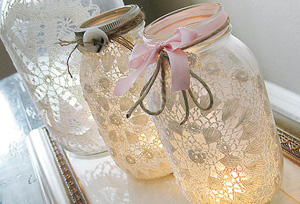 Luminaries are a gorgeous way to add some vintage, feminine flair to your table, porch or even bedroom! To make a unique luminary, wrap lace, burlap or vintage fabric around a Mason jar. These beautiful Mason jar luminaries are easy to make and require only a few materials. In addition to home decorating, these are perfect for weddings or as beautiful holiday gifts.
To make these luminaries, you'll need:
Glass jars
Adhesive spray
Lace doilies
Burlap
Twine
For the complete step-by-step, photo tutorial, check out Crafts by Amanda.
More Mason jar fun
Decorating Diva: Creative uses for Mason jars
DIY chandelier ideas
DIY wedding favors