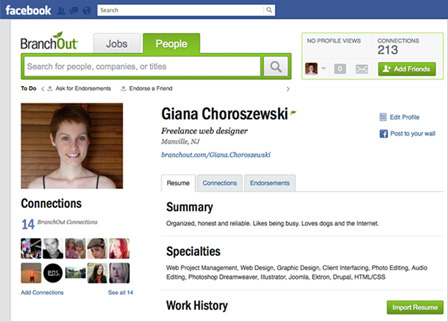 Watch out, LinkedIn! The newest job networking resource is on everyone's favorite social media platform: Facebook. If you've never heard of BranchOut, keep reading -- your career prospects might depend on it.
Professional networking in 2012
In the market for a new job? You might want to use BranchOut, the largest professional network on Facebook. Whether you've never heard of BranchOut or you're not sure if it will benefit you, there's no time like the present to get up to speed on the latest and greatest way to land a job.
What is BranchOut?
You rely on your Facebook friends for all sorts of things -- from the mundane (yes, your BFF had waffles for breakfast again) to breaking gossip (OMG! That girl from high school finally got married?!) to the most viral and controversial social issues (Kony 2012). Why not rely on those same friends to help you land your dream job?
Keep up with the latest on Facebook >>
Founded in July 2010 by Rick Marini, BranchOut has millions of users in 200 countries and exists in 15 languages. BranchOut users leverage their Facebook network of friends to find jobs and strengthen relationships with professional contacts.
BranchOut is simple: it's a free Facebook application that prompts you to create a professional profile, with information such as your work history and education. Don't worry, your personal Facebook info, such as photo albums and status updates, aren't included in your BranchOut profile.
The app's limited personal info inclusion means that even if you still post pics of the debauchery from your last girls' night out or your most recent status update involves a rant about your ex, it will not interfere with your job-seeking mission. (Well, at least not those that you undertake with BranchOut. Whether you have your Facebook profile locked down is a separate issue.)
Furthermore, BranchOut allows you to give and receive endorsements -- recommendations that friends and colleagues give to each other to acknowledge skills and accomplishments.
How does BranchOut work?
This job networking app allows you to find connections through your extended network of friends. For example, say you want to work for Nordstrom. When you search for Nordstrom on BranchOut, you will see a list of your friends and friends-of-friends who work at Nordys. These inside connections can be used to increase access to new jobs. Additionally, BranchOut allows recruiters to find you.
Job networking for 2012 -- and beyond
"Last year, 18.4 million Americans said Facebook was the place where they went to find their current jobs."
It's possible that BranchOut will become the job networking tool. "Last year, 18.4 million Americans said Facebook was the place where they went to find their current jobs, as opposed to just over 10 million on LinkedIn," BranchOut CEO Rick Marini told SheKnows. "Job seekers go to Facebook for career opportunities because that's where their friends and family are -- their real connections. BranchOut is the link between personal and professional. We allow people to easily leverage the people closest to them to help them find great jobs."
Tell us
Do you use BranchOut? What do you think of it? Share in the comments below!
More on social media and your career
How to use social media to find a job
Use social media to advance your career
Superpower your online profile
---
The opinions expressed in this article are of the author and the author alone. They do not reflect the opinions of SheKnows, LLC or any of its affiliates and they have not been reviewed by an expert in a related field or any member of the SheKnows editorial staff for accuracy, balance or objectivity. Content and other information presented on the Site are not a substitute for professional advice, counseling, diagnosis, or treatment. Never delay or disregard seeking professional medical or mental health advice from your physician or other qualified health provider because of something you have read on SheKnows. SheKnows does not endorse any specific product, service or treatment.