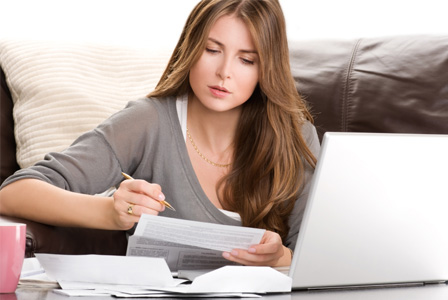 Tax Day is right around the corner. If you haven't filed your taxes yet, be sure to consider all your opportunities for deductions and credits. Many people miss out on these commonly overlooked tax deductions.
Commonly overlooked tax deductions
Job search costs
Are you out of work and on the job hunt? The money you spend on employment agencies, resume services, print and mailing costs of search letters, want-ad placement fees, travel expenses and more can be tax-deductible. There are some limits, however. According to Bankrate.com, "First, your hunt for new work must be in the same field in which you're currently or were formerly employed. Uncle Sam won't help out if you decide to totally switch career gears." Also, you can't take a "substantial break" between your last job and when you start your job hunt -- so hopefully you started looking for a job right away. These expenses are classified as miscellaneous itemized deductions, which can't exceed 2 percent of your adjusted gross income. You itemize them on line 21 of Schedule A. If you have questions, ask your tax professional.
Dependent parents
Millions of adults are helping support their aging parents. Do you provide more than half of your parents' financial support? If so, and those expenses also exceed 7.5 percent of your adjusted gross income, you could qualify for a large deduction on your income tax return. If you and your parent(s) meet all the requirements, you'll be able to claim an added personal exemption. Be sure to read all the details about this possible deduction in Publication 501 (Exemptions, Standard Deduction, and Filing Information) from the IRS. You also may be able to deduct the expenses for medical care of your parents, as well as some living expenses. Read more tax tips for caregivers.
Mileage for volunteering
Those who give back to their community by volunteering can get a tax break. Donations of cash and personal goods aren't the only charitable deductions you can claim on your tax return -- you can also deduct vehicle expenses incurred while volunteering. You can either deduct your mileage at a standard rate of 14 cents a mile or you can deduct the actual cost of using your vehicle for volunteer work. To get more clarification on how to claim car and travel expenses related to giving services to a charitable organization, check out IRS Publication 526.
Medical expenses paid by someone else
If you had medical bills and a family member or friend helped you pay them off, you can (likely) still count those medical costs in your medical expense deduction -- even though you didn't actually pay them yourself. According to Yahoo! Finance, "In a 2010 Tax Court decision, the IRS argued that a daughter could not deduct some medical expenses because she did not pay for them with her own money. Instead, her mother covered the expenses by directly paying the medical service providers. The Tax Court disagreed." By classifying them as gifted funds, the daughter was allowed to count nearly $25,000 of medical expenses that were paid by her mom.
American Opportunity Tax Credit
This isn't exactly a tax deduction, but rather an improved credit that you might not know about. The American Opportunity Tax Credit is the modification of the existing Hope Credit. This tax credit is available for up to $2,500 of college tuition and related expenses paid during the tax year. If the credit exceeds your tax liability, you can actually get a refund, unlike other credits that just reduce your tax bill to zero. According to the Internal Revenue Service, "The full credit is available to individuals whose modified adjusted gross income is $80,000 or less, or $160,000 or less for married couples filing a joint return. The credit is phased out for taxpayers with incomes above these levels. These income limits are higher than under the existing Hope and Lifetime Learning Credits."
Every tax situation is different. Be sure to read all the instructions provided by the IRS and to include documentation and receipts with your tax return. If you need tax advice, seek help through online services, local tax experts, an accountant or your financial advisor.
More about taxes
20 Last-minute tax return tips
Tax credits worth taking
What to know before choosing a tax pro