St. Patrick'S Day Craft Roundup
Get your family into the Irish spirit by celebrating St. Patrick's Day with fun and easy crafts. We've rounded up our favorite shamrock crafts that are sure to get your little leprechauns leaping for joy.
(page 2 of 2)
Luck of the Irish journal

Courtesy of Cristin Frank, the Eve of Reduction
Materials:
Paper
Card stock
Hole punch
Bamboo skewer
Green cardboard or foam paper
1 rubber band
Decorative paper or embellishments
Instructions:
Cut a shamrock out of green foam paper or cardboard. Attach a bamboo skewer cut to the height of your journal. Attach the shamrock to the top to look like a wand.
Cut paper and cover stock to your desired size.
Punch two holes in the side for binding. Holes should be positioned to the size of your wand handle.
Insert the folded end of a rubber band up through the top hole and stick the wand handle through it to keep it in place.
On the back of the journal, stretch the other end of the rubber band up through the bottom hole.
Insert the end of the wand into the bottom rubber band loop to serve as the binding.
Decorate the cover with colored paper, stickers, stamps or other embellishments.
Use journal to record your favorite St. Paddy's Day memories!
Shamrock coasters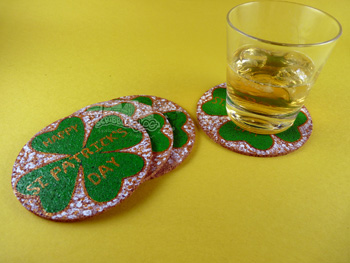 Courtesy of Scribble Shop
Materials:
Cork coasters
Acrylic paint in green and white
Gold metallic paint
A paint brush
Clear gloss paint
Instructions:
Draw a shamrock on your coaster.
Festively paint your shamrock green.
Decorate with white and gold paint for embellishment.
In the center of the shamrock, write "Happy St. Patrick's Day."
Seal with clear gloss spray paint or varnish
Grab your drink of choice and enjoy!
More St. Patrick's Day crafts and activities
4 Simple St. Patrick's Day crafts for kids
Crazy for St. Patrick's Day crafts
3 Easy last-minute St. Patrick's Day crafts for kids