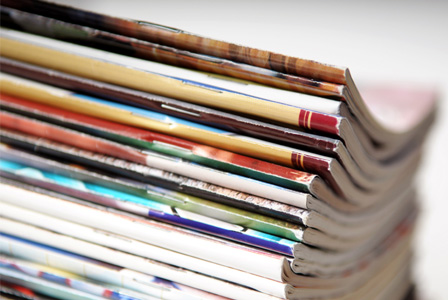 Eeek! Have you seen all the catalogs you get in the mail every week? There's a lot. Every time you throw them in the recycling or trash without even glancing through them, you toss the whole "go green" concept right out the window.
Save a tree...
Ditch the catalogs
Considering you probably browse your favorite retailers' websites now, rather than their catalogs, put a stop to their delivery altogether!
Catalog Choice
How it works: When you get unwanted catalogs or even junk mail or mail solicitations, go to their website and submit that sender's information for an opt-out. From there, Catalog Choice takes care of the rest, letting that company know that you no longer want to receive mailings from them. They can even stop phonebook deliveries!
Cost: Free! Catalog Choice is a nonprofit organization that is run by grants and donations.
Get started: Visit catalogchoice.org to register and get going. We suggest saving up a batch of catalogs and junk mail and entering them online all at one time.
Tips: It can take up to 90 days for the mailings to stop, so be patient. Also, be sure to register your business and use Catalog Choice to reduce even more mail clutter in your life!
MailStop Mobile
How it works: MailStop is the mobile app that links to Catalog Choice, letting you ditch your catalog subscriptions and junk mail even more easily. You can download the app to your iPhone and, once you've created your account, you simply snap a picture of the mailing labels of catalogs and mail you'd like to put an end to. MailStop sends it to Catalog Choice and the rest is catalog history!
Cost: Free!
Get started: Download the MailStop Mobile app, which is also compatible with your iPod and iPad
Tips: Just like with Catalog Choice, it can take up to 90 days for requests to be processed. In addition, MailStop Mobile stores all of your info and opt-outs on your Catalog Choice account, so you can use both interchangeably.
PaperKarma
How it works: The newest kid on the junk mail and catalog opt-out block, PaperKarma is an app that's easy to use and works quickly to remove unwanted catalogs and junk mail from your life. You register with PaperKarma, then simply take a picture with your phone of the company's logo or address that you'd like to break-up with, so to speak. They contact that company to have your name removed from their list.
Cost: The app is currently free.
Get started: Download the app to your Apple, Android or Windows phone; register your mailing address information; and start taking pictures! You can visit the PaperKarma website for more information.
Tips: PaperKarma is still fairly new (they launched in early February 2012), so we expect that they may make some changes as time goes on.
Go online to the source
Many times you are getting catalogs because you are registered on an online retail site. Make a quick stop online and head to the bottom of the page — there is typically an FAQ section or somewhere under customer service where you can fill out a simple form to opt-out of receiving catalogs and other mailings. In addition, it may give you the chance to opt-out of emails in the same form — bonus!
Pick up the phone
Apparently, your iPhone can actually be used to call people, too! Grab that stack of catalogs, sit down with a fully charged phone and start calling those customer service numbers on the back cover. They'll probably need your customer number, which will be located near your name and address, but in most cases, they'll be happy to help. Again, if you want to opt-out of emails from the same retailer, this is the perfect chance to ask them to take you off that list as well.
More on green living
Best green jobs in the next five years
Upcycling meets crafting: Pinterest edition
Tips to reduce the carbon footprint of your wedding