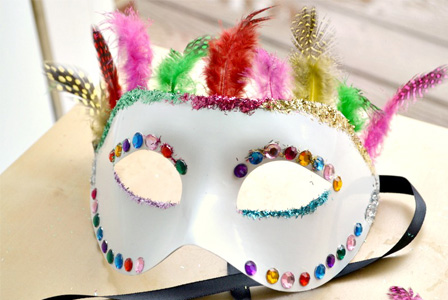 Invited to a Mardi Gras party or masquerade ball and don't have the time or budget (some masks retail for up to $100) for a fancy get up? Simply create your own one-of-a-kind mask with this super-easy tutorial.
Fun DIY for costume parties & Mardi Gras!
In less than an hour, you can have a beautiful, unique mask that looks like one you'd buy down in New Orleans for a pretty penny. Plus, using a wide range of colors and supplies, this mask can easily be reused for costume parties or Halloween!
This project is even great for kids too, since it requires no complicated materials, just fun supplies you might find in their school room. All you need is a blank white mask and your imagination!
Materials: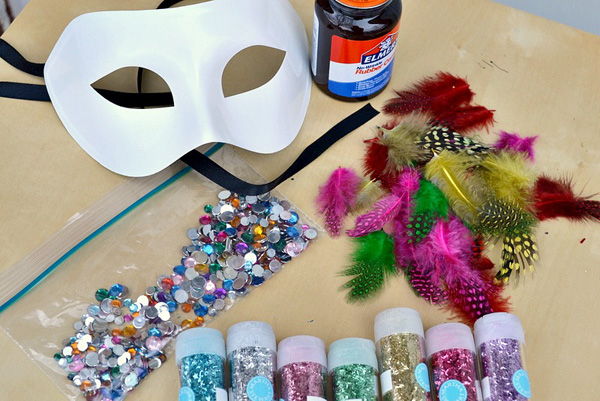 1 plain mask, color of your choice
Multicolored feathers
Assorted rhinestones
Assorted glitter (I used tinsel glitter from Martha Stewart)
Strong glue
Toothpick
Step 1: Rhinestone eyelid
Decide how you want to decorate the mask. To create a rhinestone outline for the eyes, use the toothpick and dip it in the glue. Dab a little glue on the back of a large rhinestone and place it along the upper edge of the eye. Repeat until you're happy with the number of rhinestones. Then do the same thing for the other eye opening.
Let glue dry completely.
Step 2: Glittery eyeliner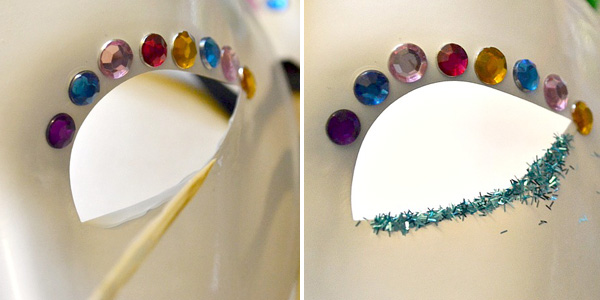 To create the sparkly "eyeliner" beneath the eye, dip the toothpick in glue and paint the bottom of the lid. Paint this line as thin as possible.
Working quickly, shake glitter over the glue. Be sure to blow or shake off excess glitter. Repeat with other eye and let dry completely.
Step 3: Feathers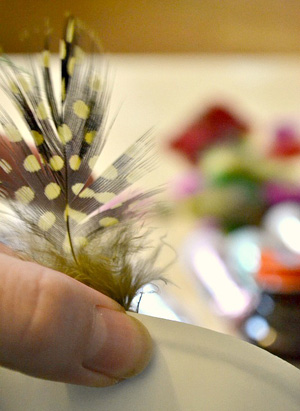 To add feathers to the top of the mask, add a small dollop of glue to the bottom of the feather. Firmly hold the feather in place for at least 2 to 4 minutes, allowing the feather to set. Carefully remove your fingers and let stand. Repeat until you're satisified with the number of feathers on the top. Let dry for 10 minutes.
Step 4: Other decorating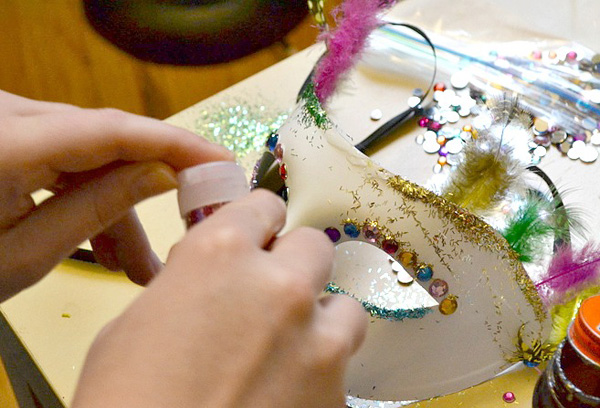 Now that you have the staples done, you can decorate the mask by adding more glitter, rhinestones or even feathers. Shake off excess glitter well before the glue dries or use a damp paper towel to wipe away extra flakes of glitter. Just be sure to let the mask dry completely (overnight, if possible) before you wear it!
More DIY crafts
DIY Heart candles
4 Simple St. Patrick's Day crafts for kids
DIY napkin rings