5 Hotels with
unique bathrooms
Staying at a destination hotel is one of the best ways to unwind. It's a chance to escape the routine of everyday life. That's why I'm a total sucker for hotels with unique bathrooms -- give me an oversize tub and fragrant bath products, and I'm a customer for life. Here's a rundown on some of the coolest hotel bathrooms around the world.
Klapsons, The Boutique Hotel, Singapore
Singapore's newest boutique hotel is a welcome departure from oversized, overcrowded resorts. With only 17 rooms, you won't have to fight for space in the check-in line. Plus, every guest room at Klapsons, The Boutique Hotel has a unique design, which extends to bathroom decor. One of the quirky rooms comes equipped with a transparent snail-shaped shower that's smack in the middle of the living space, while another features an open shower that's flanked by floor-to-ceiling mirrors (mood lighting and radio included). Book the Cosmo Room and you can choose whether to shower indoors or out.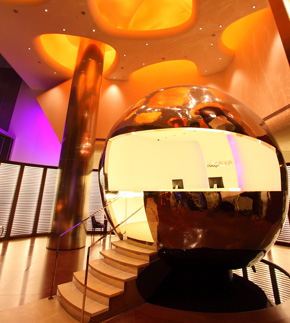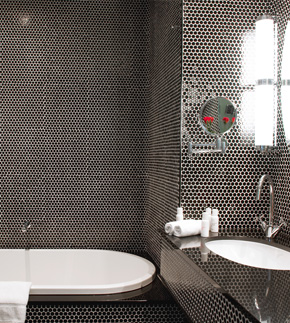 Hotel DeBrett, Auckland
In the middle of Auckland's fashion district sits the charming Hotel DeBrett, an art deco building that's one of the city's oldest preserved hotels. With a 1920s-inspired design, Hotel DeBrett was transformed into a luxurious hotspot. Its eclectic motif translates to the guest bathrooms, with honeycomb wall mosaics reclaimed from its original framework. And while it's a short walk from Viaduct Harbour's bars and restaurants, you should plan to spend at least one night soaking in Hotel DeBrett's ultra-luxe tub. The experience is made sweeter with Eithne Curran bath products, a New Zealand brand that's made with sustainable and natural ingredients.
New Hotel, Athens
Dakis Joannou, a Greek Cypriot art collector and owner of New Hotel in Athens, designed the 79-room structure with chairs, doors and other materials salvaged from the Olympic Place Hotel, which was first constructed in 1958 in Athens. Architectural and design concepts reflect the stories of Greek mythology. One of the most eye-catching art installations is in the public lounge: a tree-like sculpture crafted from a variety of different woods. Bathrooms at the New Hotel feature lavish amenities (Kiehl's and Clarins goodies for all!) and innovative layouts. In some, the sink is located outside of the shower room while others are made from materials like golden polyester and solid brass.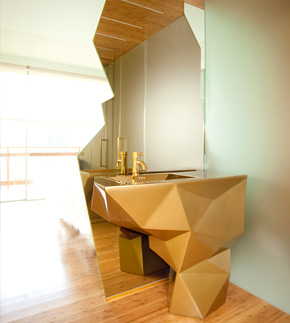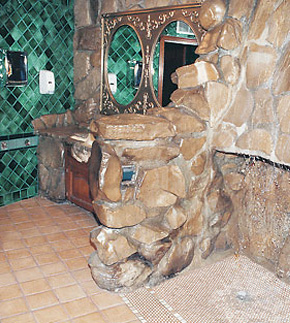 The Madonna Inn, San Luis Obispo
Built in 1958, The Madonna Inn is something of a landmark along California's central coast. Guest rooms have peculiar names like "China Flower" and "Jungle Rock" and each present a new adventure and storyline. The Cave Man, for example, is a den of solid rock where animal prints, a rock pond and Stone Age clubs make for some primitive fun. In the hotel's ladies' room, you'll find a 1920s Renaissance-style New Orleans courtyard and fireplace imported from Paris. But the real jewel of The Madonna Inn is the men's facilities. Yes, the urinal is actually an 8-foot waterfall that's motion-activated.
The Carriage House, Kohler
Located in Kohler, Wisconsin's first master-planned community, The American Club, The Carriage House is a 55-room retreat centered on the Kohler Waters Spa. Here, focus is put on the healing power of water, with treatments like mineral baths and rain rituals. A stay in The Carriage House's Immersion Suite is a must if you're a regular spa-goer. The spacious suites have a two-person whirlpool bath complete with a chromatherapy system, a practice said to stimulate positive mood through changing light color.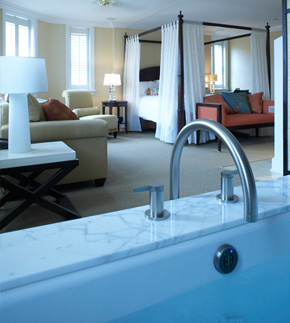 More travel tips and ideas
Checking in: Historic desert hideaways
Top 5 volunteer trip destinations
Be our guest: 5 hip hotel incentives