We're almost one month into the new year. If you made a new year's diet resolution, what have you done to make sure you're on track? Counting calories, watching the quality of food you eat and making sure you're getting your fruits and veggies is a lot of work, so why not rely on your iPhone? Download one of these helpful diet apps for your iPhone to stay on the best diet track possible. Make 2012 the year you eat right, because a healthy diet doesn't mean deprivation.
Calorie Counter & Diet Tracker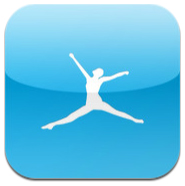 MyFitnessPal brings healthy eaters and dieters the Calorie Counter and Diet Tracker. With more 1.1 million foods listed, it has the largest food database of any calorie counter and turns your iPhone into a calorie-counting machine. The creators claim that "there is no better diet app, period" -- and based on the reviews, we think that just might be true. Among the features of the Calorie Counter and Diet tracker app: It remembers your favorites, you can add multiple foods at once, and you have the ability to save and add entire meals. Make healthy eating in 2012 a snap!
Price: Free

Fast Food Calorie Counter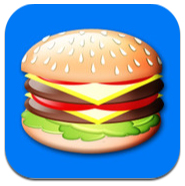 While fast food might not be your best bet when you're really watching your diet, for those who want to hit the drive-through once in a while, the Fast Food Calorie Counter iPhone app will help you stay within your calorie budget. It contains more than 9,000 menu items from 73 fast food restaurants. (Yes, there really are that many fast-food joints.) You can sort foods, rearrange restaurants and track the calories, fat, carbs, fiber and protein you consume during the day, and more. Download this diet app to keep your fast-food consumption in check.
Price: 99 cents

Eight Glasses a Day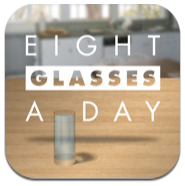 Part of maintaining a healthy diet is ensuring you're consuming enough water. Eight Glasses a Day is an iPhone app that allows you to "touch" a virtual glass of water each time you drink a real eight-ounce glass of water. When you reach your daily goal, this app "rewards" you by sharing a reason why reaching your water consumption goals contributes to a healthy lifestyle. At midnight, your eight glasses empty out and you're met with a fresh new daily goal (even if you didn't meet yesterday's).
Price: 99 cents

Livestrong Calorie Tracker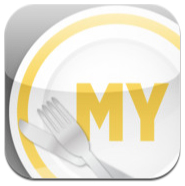 Calorie counting is made easy with the Livestrong Calorie Tracker. More than 3.5 million people use this diet app for their iPhone. In addition to counting calories, this app also tracks your exercise. The online food journal contains more than 1 million food items and My Plate gives you access to more than 1.3 million food and restaurant items. Diet apps aren't just for losing weight -- they can allow you to maintain a healthy weight, too, and the Livestrong Calorie Tracker iPhone app does just that.
Price: $2.99
Fooducate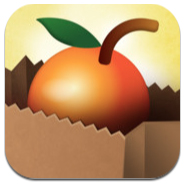 Included in the Appstore 2011 best of the iPhone Health & Fitness, the Fooducate iPhone app has also been featured in numerous publications. If you're hoping to eat better food but are confused by "ingredient lists, nutrition labels, health claims and marketing hype," Fooducate is the iPhone App for you. Learn to lose weight by eating real food. This iPhone diet app allows you to scan barcodes, search for products or browse by categories. You can view the important -- but not always highlighted -- aspects of food: excessive sugar, high fructose corn syrup (HFCS), trans-fats, additives and preservatives, and more. Learn what you're eating with Fooducate.
Price: Free

Best apps for the iPhone: Fitness apps
Best apps for the iPhone: Organization apps
Best apps for the iPhone: Most helpful apps for travel