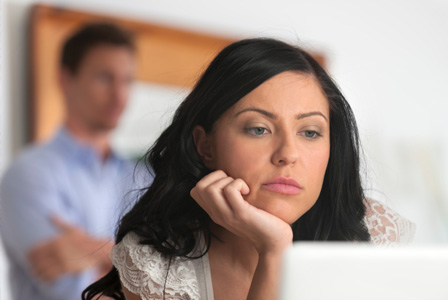 Are you addicted to social media and always connected to technology? You might be surprised by how much it's limiting your potential as a stay-at-home working mom.
Boost your productivity, maximize your pay
In this issue of Working Mom 3.0, Stephanie Taylor Christensen explores how you can increase your performance and potentially boost your pay, just by eliminating distractions.
Though you're no longer receiving feedback on your productivity from a "boss" (at least, not an adult one!) when you're a stay-at-home working mom, the idea behind an annual review is worth keeping alive. Not only will checking in with how you spend your time help you identify opportunities to improve your productivity and reclaim some sanity when you feel like you're running in circles, it can actually reveal ways to make and save more money. Make these small changes to your work-at-home habits to eliminate distractions and boost your success.
Put a dollar figure to your time

If you're like me, you've entered into your stay-at-home working mom gig by becoming self-employed and contracting for others. The beauty is that you now have the freedom to set your own hours and spend more time with your family. The challenge becomes making every moment you have to work as productive as possible. You probably have a rate established for your services — but do you really know what that amounts to based on the time you spend working?
Online time-tracking tools are critical management devices when you're a team of one. Not only can they gauge where you spend your time, they reveal which of your actions and projects are profitable, so you can focus on the most "bang for your buck." If you have an Android smartphone, check out Timesheet, a free tool that can be a first step in understanding where your day goes. RescueTime is a tool that desktop users can use for free and tracks time spent on projects, as well as online activity.
If it doesn't serve your goals, avoid It
It's easy to fall prey to time-sucking websites (hello, Pinterest!) when you're tired or hit with a wave of brain freeze, but there's always something you could be doing that is more productive than Web surfing. Banish "entertainment" sites during your work day, just as an employer might. If you lack the self-control to stay on task, try free add-ons like LeechBlock, which will literally block the sites you know waste your time. Keeping a simple spreadsheet or handwritten account of what you did each day, approximately how much time you spent on it and how much money, if any, it made or saved you can also put the cost of distractions into perspective.
Stop the social madness
Unless you are using Facebook, Twitter and FourSquare for actual business reasons, like promotions, building relationships or content marketing, steer clear of these time-wasters during your self-proclaimed work hours. The same is true for instant messaging and habitual email checking. Set aside a couple of times a day to scan messages, but respond only to pressing matters immediately, to maximize productivity.
Working Mom 3.0
The modern woman is redefining what it means to have a successful career. Rather than feeling torn between climbing the corporate ladder and having a happy family life, many women are choosing to merge the two and transition careers from a traditional role to a more flexible one. Working Mom 3.0 is reinventing the definition of "working mom," as office hours are held at home and revolve around nap times.
This column begins by chronicling the experiences of Stephanie Taylor Christensen, a former marketing professional turned self-employed stay-at-home mom, writer and yoga instructor, as she strives to redefine "having it all" on her own time and terms.
More tips for working moms
Working Mom 3.0: Tech tools for working moms
Working Mom 3.0: Divide and conquer
Working Mom 3.0: Co-parent for work-life balance
---
The opinions expressed in this article are of the author and the author alone. They do not reflect the opinions of SheKnows, LLC or any of its affiliates and they have not been reviewed by an expert in a related field or any member of the SheKnows editorial staff for accuracy, balance or objectivity. Content and other information presented on the Site are not a substitute for professional advice, counseling, diagnosis, or treatment. Never delay or disregard seeking professional medical or mental health advice from your physician or other qualified health provider because of something you have read on SheKnows. SheKnows does not endorse any specific product, service or treatment.