Positive Office Impressions
Starting a new job is never easy. You're nervous, you don't know exactly what to expect and most important, you want to make a good first impression on your new boss and co-workers. While this can seem like a daunting exercise, it's actually much easier than you think.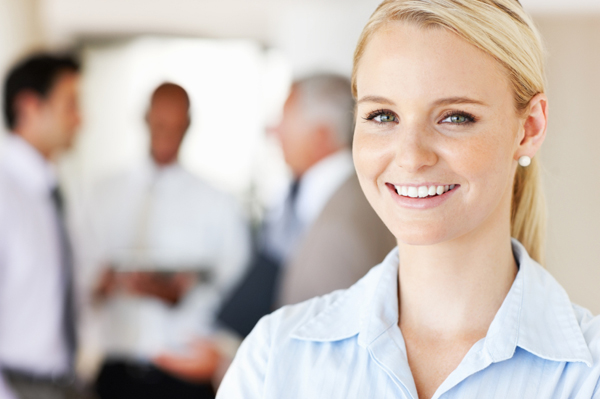 Smile
This seems simple, but having a smile ready for your new co-workers is very important when you want to make a positive first impression. If you're nervous or feeling anxious, you might forget to smile, which is understandable, but make a conscious effort to appear open and happy. If you're smiling, you'll look more approachable, which is key if you want to forge relationships with the people around you. The last thing you want is a reputation for appearing cold or unfriendly -- and a smile can go a long way to making people think you are a nice person who will be easy to work with.
Dress for success
When you went in for the job interview, you probably got a feel for the way people at the office dress. Use this to help you figure out what to wear -- but even if things seem casual, err on the side of neat and polished so you don't end up looking underdressed, especially in your first few months of work. You don't need to go out and purchase a whole new wardrobe but it is important to appear pulled together. Classic, timeless pieces such as pencil skirts, black tailored trousers, white button-down shirts and cardigans in soft but eye-catching colors, along with black pumps, never go out of style and create a look that is well-balanced and put-together. Dressing for success will ensure you always look professional.
Speak up
You may be tempted to stay quiet for the first few weeks to get the lay of the land and learn more about the workplace, but it's important to share your ideas and speak up in meetings. We don't suggest interrupting, taking over the meeting or talking just for the sake of it but if you want your new boss and co-workers to know you have something to contribute you have to show them. You might be nervous or not sure if you should make yourself heard, but if you have something to say, don't hold back. You want to make it clear to those around you as soon as possible that you are an asset and a worthwhile part of the team, and the only way to do that is by bringing good ideas to the table.
Be a team player
One of the best ways to make a good first impression at work is to show your boss and co-workers that you are willing to work as part of a team and that you have the best interests of the organization at heart. You can do this by volunteering to help out on various projects, join any committees or teams that interest you and make sure you pull your weight on any team projects you've been assigned to. This will help make you a valuable colleague in your new place of work and let the people you work with know that you're willing to help out and will be there when they need you. You don't need to do more than your share but do make it clear that you know how to get things done on time and on task.
More career tips
Office attitude: 5 Ways to feel happier at work
5 Ways to get ahead at work
5 No-fail tips for finding a work-life balance
---
The opinions expressed in this article are of the author and the author alone. They do not reflect the opinions of SheKnows, LLC or any of its affiliates and they have not been reviewed by an expert in a related field or any member of the SheKnows editorial staff for accuracy, balance or objectivity. Content and other information presented on the Site are not a substitute for professional advice, counseling, diagnosis, or treatment. Never delay or disregard seeking professional medical or mental health advice from your physician or other qualified health provider because of something you have read on SheKnows. SheKnows does not endorse any specific product, service or treatment.