Tax Benefits
For Working At Home
The job of working stay-at-home mom never seems to end, or pay enough. But there are some advantages, and they come from the tax man. In this issue of Working Mom 3.0, Stephanie Taylor Christensen reveals the tax credit perks you don't want to miss for conducting your career from home.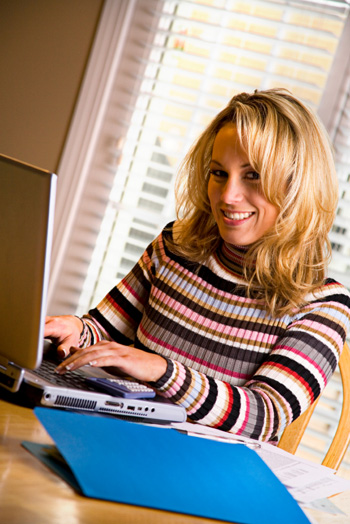 When you're a stay-at-home working mom, tax season takes on a whole new meaning compared to your traditional career days, when all you had to do was sit back and wait for the W-2 to arrive in the mail from your employer. But working from home also brings some pretty great tax credit benefits that will save you money -- if you know where to find them.
Retirement
If you've gone the nontraditional career route and left that workplace-sponsored retirement plan in the past, along with your nine-to-five schedule, your traditional IRA deposits, regardless of your income, are deductible. (ROTH IRA contributions, however, are not). If you have an adjusted gross income of $28,250 as a single filer or an AGI of $56,500 or less for joint filing, the Saver's Tax Credit (which actually reduces the amount of tax that you owe) is also yours for the taking.
Child credits
If you're a lower- to middle-income mom earner, take advantage of the $1,000 per child tax credit from the time of birth until your baby turns turns 17. Of course, all working moms know that's a pittance compared to the actual amount of work that parenting entails, but it's a little consolation for those of us who sacrificed some of our salary for a better work-life balance.
Expense deductions
When you're a working mom raising kids, the worlds of business and personal life are often intertwined. Don't forget that when you're self-employed, you can write off activities that involve work -- even when they feel like a major vacation from the job of being a mom! If you have lunch with a friend to talk about a web design project she's going to handle for your new consulting service, for example, that's a business lunch — and it's tax-deductible. Other expenses like cell phones and computer equipment are deductible too, as long as you use them for business.
Home office tax breaks
When you work from home, you can deduct the direct and indirect expenses associated with your home workspace. Simply calculate the square footage of your home office divided by the total square footage of your home, and you'll get some breaks for mortgage expenses and other costs associated with your home office, like heating bills. (Many automated programs like Turbo Tax will handle the calculations for what you can really deduct from the home office, for you).
*This information is for entertainment purposes only and is not intended to act as a definitive source for tax guidance. Consult a professional tax advisor for information regarding your specific situation.
The modern woman is redefining what it means to have a successful career. Rather than feeling torn between climbing the corporate ladder and having a happy family life, many women are choosing to merge the two and transition careers from a traditional role to a more flexible one.

Working Mom 3.0 is reinventing the definition of "working mom," as office hours are held at home and revolve around nap times.

This column begins by chronicling the experiences of Stephanie Taylor Christensen, a former marketing professional turned self-employed stay-at-home mom, writer and yoga instructor, as she strives to redefine "having it all" on her own time and terms.
More tips for working moms
Working Mom 3.0: Finding work-at-home jobs
Working Mom 3.0: What's my worth?
Working Mom 3.0: Work at home, spend less