Play Cat
& Mouse
Playing with your cat is not only fun for you, but also great exercise for your frisky whiskered friend. These felt mouse toys are totally simple to make and super fun for your cat to toss around. The bells and catnip inside make them very appealing to your playful kitty.
(page 2 of 2)
Step three:
Prepare your body pieces by stitching on the eyes and ears. Stitch the tail to the base. To assemble, sew wrong sides (body) together around the top curve. Ease in the bottom and pin in place. Stitch, leaving a 1 ½" opening for stuffing. Using a wooden dowel and small pieces of stuffing, stuff the mouse. When approximately ½ full, add 2-3 bells and a tablespoon of dried catnip, using a funnel. Continue stuffing the mouse until it is firm.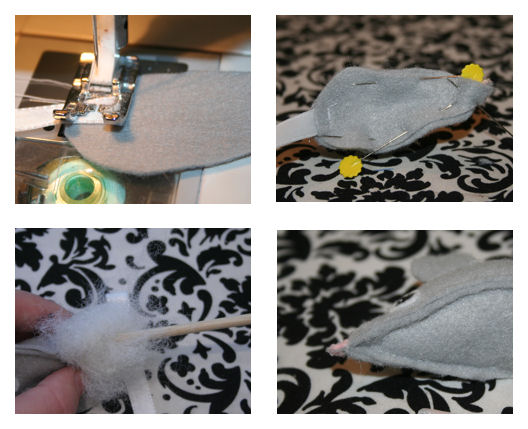 Stitch the opening closed.
Step four:
Clip any loose threads and heat seal the end of your ribbon tail by running it through the flame of a lighter (to melt the end to prevent fraying).
Your cat is sure to spend hours playing with his new mouse toy. Now that you have the basics, you can experiment making many different shapes and sizes of felt cat toys.