Plan A
Summer Picnic
Summertime means picnic weather for those of us lucky enough to live in parts of the country that aren't sweltering in scorching temperatures. Picnics are great versatile activities -- for families, hot dates or friends. Whether your picnic is in the park, on the beach or at a fun campsite, check out our list of items you might not have known you needed!
(page 2 of 2)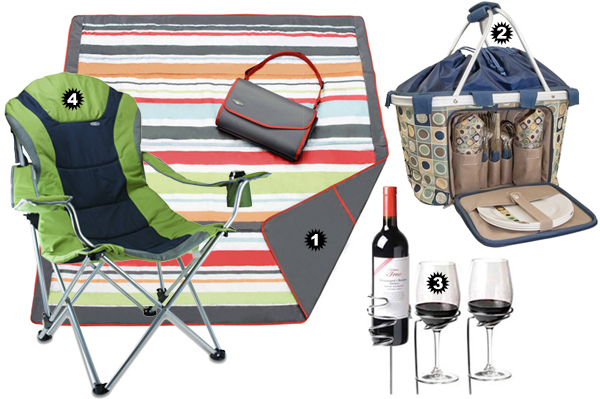 1. Blanket (Target, $29.99), 2. Canvas tote (Target, $75.59),
3. Wine bottle & glass stakes (Giftedgrape.com, $11.75), 4. Chair (Amazon.com, $50.44)
Summer picnic essentials
We've rounded up a few convenient, fun and useful summer picnic essentials.
Picnic blanket
While any blanket will do, a waterproof picnic blanket is best. Nobody likes getting settled in for the perfect picnic, only to end up damp from wet grass. The JJ Cole essentials blanket from Target is water-resistant and is easily carried when folded, with a detachable strap.
Picnic basket
A little online shopping will show you that you have endless options when it comes to a picnic basket. You can stick with an old-school wicker picnic basket or get a little more modern with an insulated canvas tote, like the Metro Melrose tote.
Wine bottle and wine glass stakes
Picnic Stix are the perfect way to keep your glasses -- and bottle -- of wine safe during your park picnic. Stick them firmly into the grass and you have an instant place to "hang" your vino.
Picnic chair
If you're not a lounge-on-the-ground person, invest in a few picnic chairs. With built-in drink holders and a zippered pocket on the back, the Picnic Time portable chairs are useful and highly portable -- they fold up and fit into a convenient carrying cases.
More summer picnic tips
Picnic-perfect styles
Plan a healthy picnic
How to make travel picnic packs