Let's Get Sewing!
Does summertime have you wondering what you and your children are going to do day after day until school starts? How about enjoying the simplicity of making a needlecraft projects with your kids? Here are some simple needlecraft ideas for kids (and adults, too!).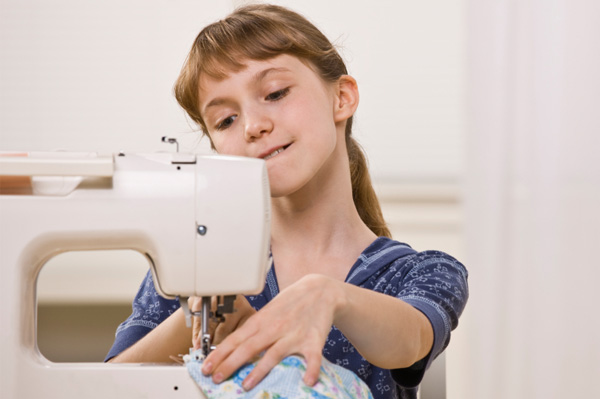 DIY Tote
A do-it-yourself tote bag is the perfect way to allow your child's creativity to be showcased whenever and wherever he carries his tote. Talk about on-the-go art! A yard of thick fabric (such as denim or canvas) will serve as the body of the tote – you can find a basic pattern online or at a fabric store. Use any kind of decorating materials your child likes – additional fabric, buttons, iron-ons, fabric paints, rhinestones and beads – to complete the DIY masterpiece.
Picture quilt
Help your child make a picture quilt craft of your entire family, or of his best friends with just a few simple supplies: poster paper, a ruler, scissors, pictures of friends/family, markers, clear vinyl adhesive paper, a hole punch, a large plastic needle and some yarn. Your child's "quilt" can tell a story, or simply showcase his favorite people in the world!
Lucky stones carrying case
If your children like to collect small stones or have budding jewelry collections, help them make small satchels for their teeniest prized possessions. With just a piece of cloth or felt (about 4 by 12 inches, a piece of thick string or rope, and a needle and thread (or a sewing machine), you can make a small bag with a drawstring to keep your children's favorite small items safe.
Needlepoint kits
If your child is just garnering an interest in needlepoint, start with a simple needlepoint kit. You can find gazillions of patterns that your child will love at your local arts and crafts store, and they will only set you back around $5 or so, depending on the complexity of the pattern and materials included. Simple kits usually include easy instructions, printed mesh sheets, embroidery needle, plastic frame and yarn.
Needlecraft lovey
With some felt, cotton stuffing, yarn, a thick needle (or fabric glue), and a few extras like buttons and additional felt cut-outs, you and your child can custom make a new lovey for bedtime! Find a pattern your child likes or even trace a simple shape (such as the silhouette of a horse) from a coloring sheet. Line up two pieces of felt, then trace the pattern onto one piece of the felt, then cut both pieces at the same time. Next, glue or sew the two pieces together, leaving a space to stuff the item. If you sew it, turn the item inside out first. If you glued it, you can skip this step. Once stuffed, close up the open space, then let your child decorate it.
Homemade bookmark
With small pieces of leftover fabric, lace, ribbon and buttons, you and your child can make a beautiful homemade bookmark to use or to give as a gift (hint: there is not a grandma on earth who would not cherish this gift!).
More crafting tips
How to press flowers
Scrapbooking 101 for moms
Making time for scrapbooking